Cloud-based 3D printing operating system will allow centralized command and control by supporting printers beyond MakerBot and Ultimaker.
San Francisco, CA June 19, 2014

3D Control Systems announced the upcoming release of an open-source operating system - 3DPrinterOS - for securely controlling a wide variety of 3D printers from around the world.
With many manufacturers offering complicated machine specific operating systems, 3D Control Systems' cloud interface will allow users to access slicing, workflows, and manage multiple printers, through one single standardized platform. Users will also be able to stream designs directly to 3D printers without exposing source files to 3rd parties. Building a platform compatible with the majority of design tools and 3D printers allows users to collaborate, communicate and create in a universal language for the first time.
"Software is the key to widespread adoption of the 3D Printing movement," said CEO John Dogru. "Our plan is for the cloud to be the spinal cord connecting minds and machines."
The founding members of 3D Control Systems include former Dell lead engineer John Dogru, cloud computing, cyber security and 3D printing Ph.D candidate Anton Vedeshin and a team of robotics and cyber defense engineers. While working with a wide variety of designers and 3D printing manufacturers, they realized there was a clear need for a single, easy-to-use interface that supported a wide range of desktop and industrial 3D printers.
The 3D printer drivers are free and will also connect to Secured3D, a cloud-based encryption platform. This gives users online control with live video from any web browser including mobile handsets. The initial release of 3DPrinterOS is slated for August 2014 and will eventually support 100's of 3D printers including new manufacturers entering the market.
3D Control Systems was part of the May 2014 class at the Alchemist Accelerator. Funded by Cisco, Draper Fisher Jurvetson, Khosla Ventures, Salesforce.com, and US Venture Partners, Alchemist Accelerator was named VentureBeat's Accelerator of the Year in 2013 and is focused exclusively on startups whose revenue comes from enterprises. 3D Control Systems closed a seed round with Vulcan Capital and value-added individuals including ex Docusign CEO Steve King. To continue the company's fast-paced growth trajectory, Series A negotiations are already ongoing with VC firms in U.S. and Europe.
Designers, application developers, and manufacturers who'd like to be part of the initial release are encouraged to contact info(at)3DPrinterOS(dot)com for free integration to the platform.
More Resources:
Register and test for free at http://www.3DprinterOS.com.
About 3D Control Systems:
3D Control Systems builds security and operating system solutions for 3D printing. Its software is deployed by designers, universities, marketplaces and manufacturers. Founded in 2013, 3D Control Systems is based in San Francisco. More information can be found at http://www.3Dcontrolsystems.com or on twitter @Secured3D.
Featured Product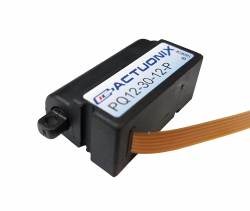 The PQ12-R series of linear servos are the smallest affordable linear servo on the market today. Small enough to fit inside a tic tac box, it's very powerful with a maximum force of over 11lbs. It operates as a direct plug-and-play replacement for standard rotary servos, using the same standard 3 wire connector. Regardless of how you drive your servos, be it with an RC receiver, an Arduino board, or a VEX micro-controller, the PQ12-R servo will function in place of a regular servo, but with the added benefit of providing linear motion. They're available in a 20mm stroke coupled with gear ratio options of 30:1, 63:1 and 100:1 cover a large variety of applications. Our PQ12 is popular used in a variety of robotics applications, medical devices, radio control and 3D printable bionic hands. Our PQ12 is proudly designed in Canada by our in-house team of engineers and thoroughly tested before leaving our facility.