Desserve Engineering Solutions are providing a Design and Simulation support to develop a Robotic Arm for fire fighting purposes.
Fire fighting requires super human skills to tackle. One of the companies in the US believed this and so they started to explore the market of using a robot in firefighting industry.

To develop the robotic arm, they approached Desserve Engineering Solutions- an India based company involved into providing complete solutions from Design to prototype. Our services includes FEA,CFD, Rapid prototyping etc. Desserve Engineering Solutions explored about the specifications required by the client and designed the robotic arm with the basic robotics design parameters such as pitch,roll, yaw and optimized for Work volume of the robot. We used high end CAD and animation software to simulate for the work volume of the robotic arm during operation. We carried out FEA Analysis for the arm component in order to find out whether they will sustain the loads at elevated temperatures or not.
Featured Product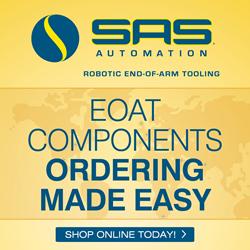 SAS Automation's complete line of modular components allows you to rapidly build your end-of-arm tools in your own plant, meeting your ever-changing automation needs on-demand. And with our newly enhanced Online Shopping Cart, it's never been easier! IT'S SHOPPING MADE SIMPLE, with features like: • Responsive Design so you can access anytime -- desktop, tablet or phone -- with ease • CAD Model Access with 3D Software Integration • Order History • Saved Quotes • Tool Builder • Product Comparisons • Enhanced Search • Social Media Sharing • Product Reviews