Desserve Engineering Solutions are providing a Design and Simulation support to develop a Robotic Arm for fire fighting purposes.
Fire fighting requires super human skills to tackle. One of the companies in the US believed this and so they started to explore the market of using a robot in firefighting industry.

To develop the robotic arm, they approached Desserve Engineering Solutions- an India based company involved into providing complete solutions from Design to prototype. Our services includes FEA,CFD, Rapid prototyping etc. Desserve Engineering Solutions explored about the specifications required by the client and designed the robotic arm with the basic robotics design parameters such as pitch,roll, yaw and optimized for Work volume of the robot. We used high end CAD and animation software to simulate for the work volume of the robotic arm during operation. We carried out FEA Analysis for the arm component in order to find out whether they will sustain the loads at elevated temperatures or not.
Featured Product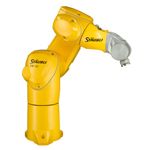 TX2 series of robots: the next generation of fast and precise 6-axis robots. This new robot range is redefining performance with the optimum balance of speed, rigidity, size and envelope. Those pioneer robots can be used in all areas, including sensitive and restrictive environments thanks to their unique features. Known worldwide for the quality of our design and innovation for more than a century, the Stäubli Group has brought its renowned engineering expertise and technological ingenuity to the forefront of robotics. Since 1982, we have built a highly regarded robotics business, and more significantly, transformed the way thousands of manufacturing operations perform. Today Stäubli Robotics is a leading player in robotics around the world, consistently delivering engineering as effective and reliable as our service and support.