Harmonic Drive LLC, a leader in high precision motion control introduces the HPN Harmonic Planetary® Gearheads. HPN planetary gearheads deliver affordable precision.

HPN Planetary gearheads feature a robust design utilizing helical gears for quiet performance and long life. These gearheads are available with short lead times and are designed to couple to any servo motor with our Quick-Connect coupling. This new value series of planetary gears carry the reputation for quality and reliability for which Harmonic Drive® products are known throughout the world. HPN gearheads are suitable for use in a wide range of applications for precision motion control and positioning. HPN Harmonic Planetary® gears are available in 5 sizes: 11, 14, 20, 32, and 40, with reduction ratios ranging from 3:1 to 31:1.
HPN Key Features :
*Peak Torque 9 N m to 752 N m
*Robust design
*High precision
*Backlash <5 arc-min (One stage) , < 7 arc-min (Two stage)
*Quick-Connect design for easy mounting to a wide variety of servomotors
*Reduction ratio 3:1 - 10:1 (One stage), 13:1-31:1 (Two stage)
*Helical gears for quiet performance
*Quick delivery
Known for its expert engineering and manufacturing, Harmonic Drive LLC products are relied upon every day throughout the motion control industry. The majority of the products sold by HDLLC are proudly made at their US headquarters and manufacturing facility in Massachusetts.
APPLICATIONS for Harmonic Drive products:
*Defense: Unmanned Vehicles, Remote Weapon Stations, Antenna Pointing
*Robotics: Industrial, Semiconductor & Flat Panel, Humanoid, Mobile Robots
*Medical: Surgical Robots, Medical Imaging, Therapeutic, Prosthetics, Exoskeletons, Lab Automation
*Aerospace: Solar Array Drives, Antenna Pointing, Valve Actuators, Lunar and Interplanetary Rovers
*Machine Tool: Milling Head, Tool Changer, Rotary Table, Grinding, B & C Axis
*Energy: oil exploration, drilling and positioning, wind power, solar
KEY PERFORMANCE features for Harmonic Drive servo actuators, gearheads and component sets:
*True Zero Backlash
*Excellent positional accuracy and repeatability
*High Torque-to-Weight and Torque-to-Volume ratios
*Compact size
*High Reliability
*Single stage high reduction ratio
About Harmonic Drive LLC
Harmonic Drive LLC engineers and manufactures precision Harmonic Drive® servo actuators, gearheads and gear component sets. They work with industry-leading customers and companies of all sizes to provide both standard product and custom-engineered servo actuators, gearheads and gear components. Harmonic Drive LLC provides high precision, high performance solutions to meet customer's mission critical application requirements. The majority of the products sold by HDLLC are proudly made at their US headquarters and manufacturing facility in Massachusetts. Affiliated companies in, Japan (Harmonic Drive Systems, Inc.) and Germany (Harmonic Drive AG) provide additional manufacturing capabilities.
Featured Product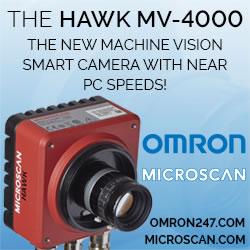 Space, or the lack of it, can be a challenge when placing barcodes or Data Matrix symbols on components. However, readable barcodes are critical to component traceability, time/date stamping, work in progress (WIP) tracking, and recall management. MicroHAWK UHD smart cameras can decode very small and difficult-to-read barcodes, including Data Matrix two-dimensional (2D) symbols and direct part marks (DPM). Users can rely on the MicroHAWK UHD to read symbols with an x-dimension almost invisible to the naked eye!