Abtex Corp. to debut new tube-and-pipe deburring machine and a wide range of additional labor-savingtechnologies at IMTS Sept. 8
DRESDEN, NY - Abtex Corp., the world's leading manufacturer of brush/machine deburring solutions for the manufacturing industry, will be demonstrating a wide range of new deburring technologies at Booth N-6658 of the International Manufacturing Technology Show in Chicago, September 8-13.

Among the machines and systems on display will be the Abtex Turnamat, a new technology that dramatically streamlines the deburring of symmetrical and asymmetrical straight and curved tubes and pipes of the kind typically used in automotive and aerospace industries. The Turnamat, which can be operated both manually and with an Abtex-designed robotic system, is capable of deburring the end of a cold-rolled steel, stainless steel, or aluminum pipe or tube in approximately 3 seconds.
Other technologies to be demonstrated at the show include the company's custom-designed Tri-Ten planetary head deburring system. The TriTen's three abrasive filament brushes offer manufacturers greatly enhanced productivity by deburring both sides of some stamped, blanked, or powdered-metal parts in a single pass. The system also features are turn-to-operator (RTO) rather than a flow-through configuration, which reduces the machine's footprint and enhances productivity. It can be outfitted with an Abtex-engineered robotic system for additional productivity enhancements.
Abtex will also be demonstrating Artifex metal polishing and surface-finishing products as well as an assortment of its own silicon carbide, ceramic, aluminum oxide, and diamond-filament brushes.
Artifex is a German company with a distinguished manufacturing history beginning in 1924 for which Abtex is the exclusive North American distributor.
About Abtex Corp.
Since 1980, Abtex Corporation has been providing integrated brush/machine deburring solutions to the North American manufacturing industry. The company supplies filament brushes and custom-designed deburring machines for a wide variety of machined-part, aluminum-extrusion, fine-blanked, and powdered-metal applications. Customers include manufacturers such as automotive Tier 2 Tier 3 parts producers. For more information, please go to www.abtex.com.
Featured Product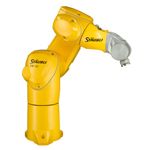 Stäubli offers a complete range of robotic tool changing systems for payloads of 20 kg to 1,530 kg and torsion moments from 30 to 12,500 Nm, designed for use in virtually every industry. The tool changers adapt to customer-specific applications with different modules for media, data, power, etc. The new MPS 130 robotic tool changer is powerful, very robust, and designed for a huge range of applications. It features multiple couplings for air/vacuum connections, and can be equipped with connectors for data and electrical transmission. Very compact dimensions, with a coupled height of only 67 mm, make the MPS 130 the first choice for applications requiring a high number of mating cycles.