The MR-JE features the latest servo technology, including one-touch auto-tuning, vibration suppression, machine diagnosis functionality and high tolerance against instantaneous power failures.
VERNON HILLS, Ill. - Responding to industry demand for a servo system with advanced functionality at a competitive price, Mitsubishi Electric Automation, Inc. introduces the MR-JE servo system. The MR-JE features the latest servo technology, including one-touch auto-tuning, vibration suppression, machine diagnosis functionality and high tolerance against instantaneous power failures.

MR-JE servo systemBecause of its auto-tuning function, the MR-JE is especially suited to applications that require precise control of servomotors, such as packaging, labeling and machine tool applications. It's ideal for use in pick and place machines. Auto tuning helps servomotors achieve optimal performance and allows the motors to adapt to machine-to-machine variances.
Users simply turn on the advanced one-touch tuning function to adjust servo gains. In addition to auto tuning, the vibration suppression function also contributes to optimal servo performance, while extending machine life.
"We believe this new servo offering will appeal to both OEMs and end users," said Ariane Roberson, senior product marketing engineer, Mitsubishi Electric Automation, Inc. "OEMs will have more flexibility to offer solutions that are highly cost competitive and include an easy-to-use interface. OEMs will also benefit from the more energy efficient designs and machine diagnosis functions, which are competitive differentiators on smaller or low-end machines."
She added that both OEMs and end users will benefit from the MR-JE's scalability. This allows the user to purchase product at the required levels, and mix and match Mitsubishi Electric servo offerings, such as the high performance, high functionality MR-J4 servo in a single system with a single software package for an optimized solution.
The easy-to-use servo system is also simple to set up and maintain. The MR-JE can be used with Mitsubishi Electric FX3 Series programmable logic controllers.
Mitsubishi Electric Automation, Inc.
Headquartered in Vernon Hills, Ill., Mitsubishi Electric Automation, Inc., offers a wide range of factory automation products, solutions, training and support services for the industrial and commercial sectors. A U.S. affiliate company of Mitsubishi Electric Corporation, Mitsubishi Electric Automation represents more than 75 years' experience in the automation industry. A broad product portfolio includes programmable automation controllers (PAC), programmable logic controllers (PLC), human machine interfaces (HMI), variable frequency drives (VFD), servo amplifiers and motors, control software, computerized numerical control (CNC), circuit breakers, robots and motion controllers. The company takes its motion control solutions on the road with the 53-foot long Solutions in Motion mobile showroom that appears at tradeshows, training seminars and other events across North America.
In addition to factory automation, Mitsubishi Electric US group companies' principal businesses include semiconductor devices, automotive electrical components, elevators and escalators, heating and cooling products, solar modules, electric utility products, and large-scale video displays for stadiums and arenas. There are 50 locations throughout North America with approximately 3,600 employees.
Featured Product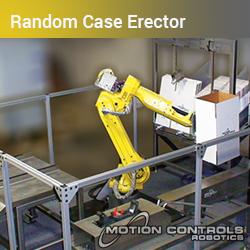 Random Case Erectors are ideal for fulfillment centers and other end-of-line packaging needs. Save money by eliminating changeover downtime. Reduce ergonomic injuries by eliminating repetitive manual tasks. The Random Robotic Case Erector System includes: • FANUC M20iA/20 Robot • Combi gravity case magazine - holds 2 box sizes • Combi bottom flap folder with integrated 3M case sealing head. • Fixed robot base, anchored to the floor • Flexible end of arm tool to pick and erect multiple case sizes to eliminate changeover downtime • System wiring and controls • Color 7.5" touchscreen HMI display for selecting case size • Perimeter guarding with safety interlocks on doors • Programming for Robot, PLC/PMC, HMI and Vision • Complete documentation in electronic format • On-site training and support • Compliance with all applicable robotic safety standards. Alternate safety configuration may be available to allow an operator to changeover a case size in one magazine while the robot continues to work in other magazines. Contact Motion Controls Robotics to learn more about how to implement this system into your current end-of-line operations.