These days the quality of the packaging is as important as the packaging lines being multifunctional. Not only must the lines satisfy the very highest requirements in terms of productivity, flexibility and reliability, but safety must also be absolute.
Quality and efficiency - Modernized safety technology

Nestlé Purina Petcare, based in Aubigny, France, is a worldwide manufacturer of dog and cat food; it's priority is the quality of its products. to guarantee this quality into the future, the company, which belongs to Nestlé France, arranged a comprehensive retrofit of its production facilities. The focus was on modernization of the electronics and the safety of the packaging lines. The aim was to increase production to serve the rapidly growing market segments for the Nestlé products manufactured in Aubigny.
PSS 4000 for highly flexible packaging processes
To manufacture and package high-quality pet food, packaging lines need to be flexible and must meet today's applicable safety standards. At Nestlé Purina Petcare, products are generally packed into rectangular aluminum pouches. The package designs vary, depending on the type and size of the package to be filled. As there are repeated changes in the packaging process, the engineering needs to be flexible. in this case the automation system PSS 4000 was the perfect fit to do the job.
Data is transmitted in real-time via Ethernet
Other criteria for using the automation system included easy operation and diagnostics via the corresponding software platform PAS 4000. Data transfer via the real-time Ethernet SafetyNET p, which enables all data to be transferred safely, was another key factor: The real-time Ethernet adapts to the existing data transfer structure and uses the existing Ethernet (Modbus TCP) to communicate with the distributed remote stations PSSuniversal I/O and the automation system's higher level control systems PSSuniversal PLC. Safety data from the individual stations is transmitted to the installed operator terminals in real-time along with the data from the packing stations.
Overall packaging line process assured in the event of partial failure
The PSS 4000 also enables all data to be managed on a decentralized basis: if any of the seven areas on a packaging line has to switch to a safe condition in the case of danger, the other areas will continue production, so that the overall process is not interrupted.
"We were able to reduce downtimes significantly thanks to the improved diagnostic function." Thierry Jouval, Project Manager at Nestlé Purina Petcare
For more information on the automation system PSS 4000 by Pilz, please visit: http://bit.ly/VFd1Ro
About Pilz Automation Safety, L.P.
For over 65 years, Pilz continues to be a leading, innovative automation technology company. As experts in the safety of human, machine and the environment, Pilz provides worldwide, customer-oriented solutions for all industries. These include innovative products and comprehensive services from the areas of sensor, control and drive technology. We pursue clearly defined goals. Our focus is to complete our safe automation range with safe sensor and actuator technology and dovetail this core competency with the expansion of solutions for standard automation. This way we can transfer our experience and knowledge from safety technology to the requirements of general control technology for a tailored, one-stop automation solution.
Pilz Automation Safety, L.P. provides solutions for your automation functions that are safe, economical and reliable. We offer first-class components, which can be used individually or combine to form a system. Pilz develops environmentally-friendly products using ecological materials and energy-saving technologies.
Featured Product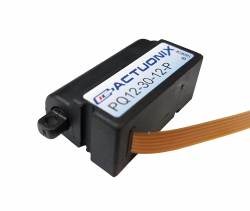 The PQ12-R series of linear servos are the smallest affordable linear servo on the market today. Small enough to fit inside a tic tac box, it's very powerful with a maximum force of over 11lbs. It operates as a direct plug-and-play replacement for standard rotary servos, using the same standard 3 wire connector. Regardless of how you drive your servos, be it with an RC receiver, an Arduino board, or a VEX micro-controller, the PQ12-R servo will function in place of a regular servo, but with the added benefit of providing linear motion. They're available in a 20mm stroke coupled with gear ratio options of 30:1, 63:1 and 100:1 cover a large variety of applications. Our PQ12 is popular used in a variety of robotics applications, medical devices, radio control and 3D printable bionic hands. Our PQ12 is proudly designed in Canada by our in-house team of engineers and thoroughly tested before leaving our facility.