SURFCAM General Manager Peter Marton says the 2015 release showcases a new user interface with numerous features designed to improve workflow.
August 20, 2014 -- Major enhancements in the forthcoming new release of SURFCAM from Vero Software will be on display for the first time in the US, at North America's largest manufacturing technology exhibition, IMTS, from September 8 to 13.

Visitors to booth E-3114 at the McCormick Place complex in Chicago are being shown how SURFCAM 2015 R1 represents the first in a series of planned steps to dramatically enhance programmer efficiency and provides the foundation for future releases.
SURFCAM General Manager Peter Marton says the 2015 release showcases a new user interface with numerous features designed to improve workflow. New and enhanced functionality includes: • Improved in-line toolpath editing
• A number of time-saving features for geometry and toolpath management
• Higher levels of user-defined customization.
"We expect our revised user interface, along with the enhanced geometry management, to be of particular interest to visitors, as they provide both visual appeal and demonstrate major process improvements.
"On the roadmap charting SURFCAM's planned development over the next few releases, 2015 R1 not only introduces game-changing functionality, but also provides a solid foundation for future innovations. SURFCAM 2015 R1 demonstrates why it continues to lead the way in improving productivity and flexibility for manufacturers, increasing their profitability."
Part of the Vero Software Group, Surfcam is a leading CAM solution providing productivity, reliability and flexibility. Vero has direct offices in the UK, Germany, Italy, France, Japan, USA, Brazil, Netherlands, China, South Korea, Spain and India supplying products to more than 45 countries through its wholly owned subsidiaries and reseller network. Vero Software is now part of Hexagon AB and a division of Hexagon Metrology, a leading global provider of design, measurement and visualisation technologies.
SURFCAM - Booth E-3114, IMTS
Featured Product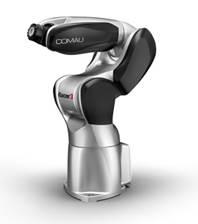 Racer3 is a powerful, high-speed, 6-axis articulated robot featuring a payload of 3kg and a reach of just 630 mm. Built from high-strength aluminum, the newest innovation in Comau robotics is lightweight and can be easily mounted on benches, walls, ceilings or on inclined supports. The third robot within the award-winning Racer family, Racer3 is Comau's response to the growing demand for fast, cost-effective robotic automation within small to medium-sized enterprises and emerging countries. Racer3 is intended for general industry use to increase productivity and reduce overall costs by automating industrial applications. It combines field-proven technology and enhanced dexterity with a keen focus on safety, design and product aesthetics. With a streamlined design and brushed metal exterior, the new powerhouse of a robot combines beauty and speed together with absolute precision and repeatability. Primary applications include assembly, material handling, machine tending, dispensing and pick & place.