Fast, Easy, Effective Removal of All Support Materials
Simi Valley, CA August 25, 2014

Omegasonics, a leading manufacturer of ultrasonic cleaning systems, announced today the introduction of two ultrasonic cleaning units for use with fuse deposition modeling (FDM) 3D parts.
The 1900 BT and the SST4030 utilize precision ultrasonic technology to accurately and methodically remove all support material from 3D prototyped parts, one layer at a time. These innovative units effectively clean ABS, polycarbonate, polycarbonate-ISO, Nylon 12, and PC-ABS parts, regardless of a part's geometry and complexity.
"Our engineers have been working for some time with one of the top 3D printing equipment manufacturers to develop ultrasonic cleaning units that deliver superior parts cleaning," said Frank Pedeflous, President of Omegasonics. "The advanced technology of our 3D ultrasonic cleaners help make the prototyping process more cost effective and allows manufacturers to get ideas to market faster than ever."
The new Omegasonics cleaners are fast, easy to use, and designed for the office environment. They are designed with all solid state components, Plug & Play construction, and require no regular maintenance. A stainless steel parts basket with a unique lid ensures that parts are fully submerged in the ultrasonic bath for maximum cleaning throughout the entire cleaning cycle.
Other features include:
*User-friendly illuminated control panel
*Digital temperature control
*Digital timer controlled ultrasound
*Large tank capacity
*Stainless steel drain valve
*Insulated tank for reduced noise
*And more
No other existing process removes support materials from 3D prototyped parts as quickly, easily and precisely as the Omegasonics1900 BT and the SST4030 ultrasonic cleaning units.
About Omegasonics
Omegasonics, the West Coast's leading manufacturer of ultrasonic cleaning systems, designs and manufactures a complete line of ultrasonic contents restoration cleaning systems, biodegradable cleaning agents, supplies and accessories. Additional info about the company is available at http://www.omegasonics.com or at their blog, "Mighty Bubbles," at blog.omegasonics.com.
Featured Product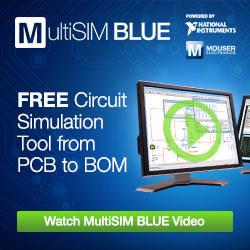 Powered by NI, MultiSIM BLUE Upgrade includes schematic capture, simulation, PCB layout, BOM-to-cart capabilities using only one tool. No more switching between different programs for circuit design. Perform MCU co-simulation. New voltage, current and power probes as well as faster active analysis mode are also available. Plus, it even comes with an expansive database of new components from industry-leading manufacturers. Discover why EDN named MultiSIM BLUE a HOT 100 Product of the Year.