SBG Systems releases the Ellipse Series, a brand new product range of miniature inertial systems replacing the IG-500 Series. For the same budget, customers benefits from higher accuracy, advanced filtering and features inspired from high end inertial navigation systems.
At the Core of the Ellipse Series: Very Low Noise Gyroscopes & GNSS

After many years of success and thousands of sensors on the field, the IG-500 Series is being replaced by a brand new generation: the Ellipse Series. This new series of miniature inertial systems benefits from a new design, new sensors, new capabilities, and new algorithms. "We have selected state-of-the-art MEMS sensors, especially very low noise gyroscopes that greatly enhance Ellipse performance. We integrated cutting-edge GNSS receiver while keeping a small size," declares Alexis Guinamard, CTO of SBG Systems.
More Accurate, More Robust, More Features, for the Same Budget
With the Ellipse Series, SBG Systems sets up new standard for miniature inertial systems. "Being the only one on the market to design both high-end and entry-level sensors, we are able to upgrade miniature sensors capabilities by injecting some advanced and proven filtering and features inspired from high end inertial navigation systems" adds the CTO. Additionally to higher accuracy, we added for the same budget an improved FIR and rejection filtering, robust IP68 enclosure, high output rate, RTK corrections, automatic alignment, etc.
An Amazing Dual Antenna Model Completes this Innovative Product Line
Weighting from 45 grams, Ellipse sensors are incredibly flexible. The Ellipse-A model provides 3D orientation and heave. For navigation, you can connect your own GPS with the Ellipse-E, or use the internal one by choosing the Ellipse-N model. The amazing Ellipse-D completes this state-of-the-art miniature sensor family. This model is a little larger than the rest of the series because it integrates a Survey-grade L1/L2 GNSS receiver with two antennas for unmatched heading and position accuracy.
Featured Product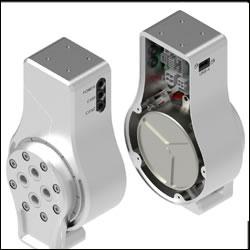 maxon launches the next generation of positioning controllers - the EPOS4. A high performance module with detachable pin headers and two different power ratings. With a connector board, the modules can be combined into a ready-to-install compact solution. Suitable for efficient and dynamic control of brushed and brushless DC motors with Hall sensors and encoders up to 750 W continuous power and 1500 W peak power. The modular concept also provides for a wide variety of expansion options with Ethernet-based interfaces, such as EtherCAT or absolute rotary encoders.