Luminar Products from Nampa, ID announces launch of the TRiBOT Kickstarter project. The first multi-function machine capable of 3D printing, CNC milling, and auto-injection molding.
Nampa, ID September 18, 2014

The TRiBOT fills the void that currently exists between light duty 3D printers and heavier duty machining and injection molding equipment. The TRIBOT desktop workshop machine can take ideas from prototype to production without investing in three different machines at more than three times the cost.
It is the first machine to offer the unique three-in-one manufacturing capabilities of 3D printing, CNC milling and auto-injection molding. Unlike other 3D printing machines, the TRiBOT is built on a solid 130 lb iron frame. It is capable of printing detailed prototype models while still preserving the practical use as a CNC Mill or manual mill to shape solid steel with ease.
The TRiBOT is the ultimate tool for creators with great ideas who don't have access to the multiple machines, tools and technology needed to bring their ideas to life. The TRiBOT offers the unique ability to develop their ideas and prototype them, then perfect them down to the finest detail and then produce them. All with ONE machine.
John Rule, President of Luminar Products in Nampa, Idaho says "The TRiBOT is the most versatile machining tool that offers creators the ultimate tool for bringing an idea to life."
Ron Steele, chief engineer comments "Anyone who has ever tried to turn an idea into a finished product knows how difficult it can be to get from prototype, to perfecting, to production stages. You often need not just one, but an assortment of very expensive specialized tools to travel through the creation process." The TRiBOT offers the versatility of three machines with a much smaller footprint and price tag than would normally come with purchasing three machines capable of the same functions.
The Kickstart campaign aims to raise $30,000 in 45 days on the crowd-funding website, by reaching entrepreneurs, inventors, artists, clothes designers, jewelry designers, engineers, schools, labs, manufacturing shops, or just a machine hobbyist who wants the most versatile machine available. The campaign launched September 17th and ends on November 1st.
Learn more about the team here.
Luminar Products is a small manufacturing company located in the beautiful Idaho Treasure Valley right outside of Boise. Luminar plans to send waves through the small scale manufacturing world with the the TRiBOT. Passionate about providing inventors, designers, engineers, artists, and anyone with an idea the tools necessary to make it a reality.
Featured Product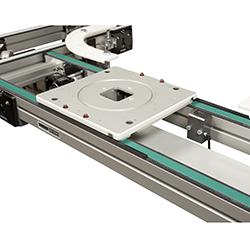 Dorner's 2200 Series Precision Move Pallet Systems feature the latest advancements in pallet traffic management. A unique pin tracking system guides pallets through merges and curves while maintaining product orientation. The fast belt change capability increases efficiency and reduces downtime in assembly automation processes. They are available in lengths up to 25 ft., can handle loads up to 500 lbs. and travel at speeds up to 114 ft/min.