Ticket prices will increase on site, so attendees are encouraged to register before October 21 for the best rate.
NEW YORK, Sept. 30, 2014 -- MecklerMedia (OTCQX: MECK) and 3D Printing Industry announced that more than 40 sponsors and exhibitors will be participating at the Inside 3D Printing Conference and Expo taking place in Santa Clara on October 21-23, 2014.

MecklerMedia also announced an additional keynote speaker: Mohsen Rezayat, PhD and Chief Solutions Architect at Siemens PLM. Rezayat will be delivering the keynote titled "The Role of File Format in Addressing Limitations of Additive Manufacturing" at 9:00am on October 23.
Other keynote speakers include Jeff Kowalski, Senior Vice President and Chief Technology Officer of Autodesk; Keith Murphy, Chairman and Chief Executive Officer of Organovo, Inc.; Chris Anderson, CEO of 3D Robotics and Founder of DIY Drones; and Carl Deckard, Chief Technical Officer of Structured Polymers. The event includes a special appearance by Terry Wohlers of Wohlers Associates, Inc.
Ticket prices will increase on site, so attendees are encouraged to register before October 21 for the best rate. Group discounts are available for 2+ attendees from the same organization.
For complete information on Inside 3D Printing Conference and Expo, visit inside3dprinting.com.
If your company is interested in sponsoring or exhibiting, contact us at 3dprinting.sponsors@mecklermedia.com.
About MecklerMedia
MecklerMedia (OTCQX: MECK) is the producer of conferences including Inside 3D Printing, Inside Bitcoins, and AllFacebook Marketing Conference. MecklerMedia produces over 25 conferences annually. The MecklerMedia news sites and newsletters, including Inside Bitcoins News, 3D Printing Industry, and Allfacebook.de provide up-to-date coverage on emerging industries to help drive business forward.
Featured Product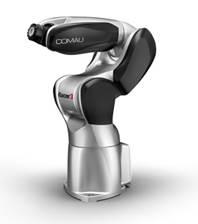 Racer3 is a powerful, high-speed, 6-axis articulated robot featuring a payload of 3kg and a reach of just 630 mm. Built from high-strength aluminum, the newest innovation in Comau robotics is lightweight and can be easily mounted on benches, walls, ceilings or on inclined supports. The third robot within the award-winning Racer family, Racer3 is Comau's response to the growing demand for fast, cost-effective robotic automation within small to medium-sized enterprises and emerging countries. Racer3 is intended for general industry use to increase productivity and reduce overall costs by automating industrial applications. It combines field-proven technology and enhanced dexterity with a keen focus on safety, design and product aesthetics. With a streamlined design and brushed metal exterior, the new powerhouse of a robot combines beauty and speed together with absolute precision and repeatability. Primary applications include assembly, material handling, machine tending, dispensing and pick & place.