NI CVS-1459RT Delivers Quad-Core Intel Atom Processor, USB 3.0 Camera Ports and FPGA-Enabled I/O
AUSTIN, Texas--NI (Nasdaq: NATI), the provider of solutions that enable engineers and scientists to solve the world's greatest engineering challenges, today announced a compact solution for high-speed vision applications. The NI CVS-1459RT is a small, rugged vision system with a quad-core Intel Atom processor and two dedicated USB 3.0 ports for USB3 Vision cameras.

"The NI Compact Vision System is my go-to solution for vision applications where reliability and uptime are key," said Robert Eastlund, vice president of sales for Graftek Imaging Inc. "Now I can leverage the easy connectivity and high throughput of USB3 while taking advantage of new features for high-performance processing and HMI integration. The NI CVS-1459RT enables high-resolution, high-speed industrial vision solutions."
The NI CVS-1459RT is programmed with either LabVIEW system design software or Vision Builder for Automated Inspection (AI). Engineers have the option of using LabVIEW FPGA to further customize the FPGA-enabled I/O and tightly synchronize vision inspection results with other parts of industrial systems, such as encoders and proximity sensors.
The NI CVS-1459RT is based on the LabVIEW reconfigurable I/O (RIO) architecture, an integral part of the NI graphical system design platform. A modern approach to designing, prototyping and deploying embedded monitoring and control systems, graphical system design combines the open LabVIEW programming environment with commercial off-the-shelf hardware to dramatically simplify development so engineers can combine powerful vision tools, I/O, industrial communication, data logging and human machine interfaces (HMIs) into a single environment.
Key Benefits
*The rugged form factor is ideal for industrial applications up to 55ºC
*Synchronization with automation devices for camera and lighting triggering via onboard industrial I/O
*High-bandwidth camera interface with dual USB 3.0 ports for compatibility with the latest low-cost USB3 Vision cameras; ability to use ports with peripherals such as external storage for logging data
*Processing power with quad-core Intel Atom processor and 64-bit NI Linux Real-Time OS
*Board-level versions available for OEM applications
For more information on the NI CVS-1459RT, visit www.ni.com/vision/systems/cvs/.
About NI
Since 1976, NI (www.ni.com) has made it possible for engineers and scientists to solve the world's greatest engineering challenges with powerful, flexible technology solutions that accelerate productivity and drive rapid innovation. Customers from a wide variety of industries - from healthcare to automotive and from consumer electronics to particle physics - use NI's integrated hardware and software platform to improve the world we live in.
Featured Product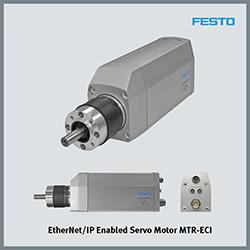 Mechatronic Motion Solutions from Festo is a unique system of components, modules, and software. It integrates all types of pneumatic, servopneumatic and (electro)mechanical automation motion and combines them according to your task. Irrespective of the control system environment you use, Mechatronic Motion Solutions always provides the appropriate interfaces. The fingers can be actively moved and their strength amplified; the operator's hand movements are registered and transmitted to the robotic hand in real time. The objectives are to enhance the strength and endurance of the human hand, to extend humans' scope of action and to secure them an independent lifestyle even at an advanced age.