Designed with simplicity in mind, the sizing tool helps users quickly find suitable GAM products compatible with their motor.
Mount Prospect, IL October 08, 2014

GAM, a leading manufacturer of precision gear reducers, servo couplings, and linear mounting kits, announces the launch of a new web-based product sizing tool.
Designed with simplicity in mind, the sizing tool helps users quickly find suitable GAM products compatible with their motor. Over 9,000 of the most popular servomotors on the market are available for selection. After choosing a motor, users can easily narrow down the list of matching products by filtering attributes. Once a product has been sized, users reach a personalized specification page where they have instant access to everything they need for their design, including:
*CAD models tailored to the specific motor available for download
*Detailed product information
*PDF versions of the catalog or individual catalog sections
*Recommended complimentary products
*Quick RFQ and online ordering options
Other notable highlights of the sizing tool give users the ability to adjust the continuous and peak torque values of the motor based on the actual performance requirements to ensure accurate sizing and a side-by-side product comparison function.
"We set out to develop a sizing tool that was simple and easy to use," said Craig Van den Avont, President of GAM, "In the early stages of sizing most applications, our customers are looking for general guidance within our product offering. As the machine design progresses and the requirements are refined, our application engineers are there to help with more involved sizing calculations to ensure the product remains suitable for the application."
The sizing tool is the latest enhancement to GAM's online catalog website which is continually being updated with new products and features aimed to provide visitors a first rate experience.
Featured Product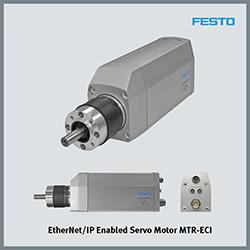 Mechatronic Motion Solutions from Festo is a unique system of components, modules, and software. It integrates all types of pneumatic, servopneumatic and (electro)mechanical automation motion and combines them according to your task. Irrespective of the control system environment you use, Mechatronic Motion Solutions always provides the appropriate interfaces. The fingers can be actively moved and their strength amplified; the operator's hand movements are registered and transmitted to the robotic hand in real time. The objectives are to enhance the strength and endurance of the human hand, to extend humans' scope of action and to secure them an independent lifestyle even at an advanced age.