EmoSPARK 2.0 needs support with crowd funding AI cube production project
London, United October 15, 2014

Life as we know is just about to change. Artificial intelligence is now making its way into homes in the form of a 90 x 90 x 90cm emotionally supportive cube with personality if it's own named EmoSPARK.
Patrick Levy-Rosenthal, a Paris based entrepreneur has just created his latest crowd funding request on Indiegogo at http://www.indiegogo.com/projects/emospark-2-0/x/86801 for mass production of this Wi-Fi/Bluetooth connected cube. The world's first 'artificial intelligence console' can learn the emotions and language of people in their homes and make its own contributions to the emotional wellbeing of the family.
Over time it will even develop its own personality based on the interactions it has had with people. Patrick's last campaign on Indiegogo secured funding of US$178,000 for development of this product. The current campaign is for mass production in addition to providing a vehicle to collect orders for pre-Christmas fulfilment.
This represents a great chance to surprise those at home with a virtual new family member who will be the focus of Christmas entertainment.
Similar to Apple's Siri, it's possible to speak with the cube but EmoSPARK will go one step further than Siri by providing entertainment and web content choices including music and videos based on the current mood and preferences of the user.
How can any inanimate object interact with humans and learn how to please them? Welcome to the fascinating world of Artificial Intelligence. Although AI and robots are used predominantly for military related applications, EmoSPARK brings AI to family life but on the level of emotions. It's a system that is there to root out any sadness and provide a media-based remedy for it.
This futuristic cube is powered by Android and can be communicated with in a number of different ways. Users can speak directly to it, type into their tablet, smartphone, TV or computer. This also means that new apps can be developed to stretch its abilities and bring new possibilities of abilities for EmoSPARK.
If anyone is wondering how this miniature but powerful mood enhancer works, read on. Using a unique face-tracking technology, the EmoSPARK will learn what one like and what one don't like by using 7 different emotions as a base for its own personal map of one's personality; joy, sadness, disgust, fear, anger, trust, anticipation and surprise.
It can even connect to one's accounts on Facebook and YouTube to dig deeper into one's likes and interests and bring back content that it feels would be beneficial for one to watch or listen to.
If a user is having a particular bad day, EmoSPARK will try to tempt them into a better frame of mind with a few choice pieces of music that it knows they may like. It may even let them know that one of their friends has posted a video onto Facebook and will offer to play it on the television. If they opt in and are amused, EmoSPARK will find other similar content to amuse them.
A cube may also have a few down days of its own, but it can help itself by meeting with other cubes online in a 'virtual discussion group' where they exchange experience and information that will be to their user's benefit. Content with similar emotional tags can be transferred between cubes.
"Yes, we are now reaching into the future and EmoSPARK is proof of that. Be a part of it now on Indiegogo."
IndieGoGo: http://www.indiegogo.com/projects/emospark-2-0/x/86801
Contact: Stefania(at)emoshape.com
Website: http://www.emospark.com
Featured Product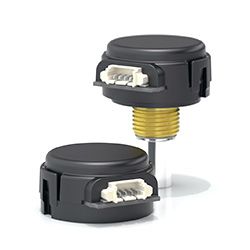 High resolution. Limited space. Not a problem for our latest miniature encoders that provides precise feedback and is easy to install within smaller-sized applications. Now available in 400 and 500 CPRs. Coming in at about the size of a nickel, we've added our proprietary Opto-ASIC sensor technology and improved quadrature for even greater motion control. Product Features: 10 resolutions up to 360 CPR, plus new 400 and 500 CPR resolution; 288 configurations available, including single and differential output; Compact form factor • 0.866 inch (in) / 22.00 millimeter (mm) package outside diameter • 0.446 in / 11.33 mm package height • Fits NEMA 8, 11, 14 and 17 motors; Simple and efficient assembly process • Four-piece construction • Push-on hub disk design, patent pending; 100 kilohertz frequency response; Shafted version up to 0.25 in / 6.25 mm diameter.