Cost and time savings due to flexibility characterize the stainless steel models of the O500 photoelectric sensor.
Baumer, the sensor expert, now also makes the user benefits of its NextGen sensors available to the food industry. Cost and time savings due to flexibility characterize the stainless steel models of the O500 photoelectric sensor. Overall, three sensor principles are offered in EHEDG-compliant hygienic design (O500 HD) or as wash-down variant (O500 WD) with IP 69K rating: First, a light sensor with background suppression. Second, a retro-reflective sensor. And finally, SmartReflect, the light barrier technology developed by Baumer that does not need a separate reflector.

With O500 in hygienic design, Baumer offers the world's first sensor with magnetic teaching of the sensing distance straight at the device itself. The wash-down sensors feature qTeach, a teaching technology developed by Baumer, and ensure easy, timesaving installation and wear-free operation. Just a touch on the closed housing with any ferromagnetic tool such as an Allen key or screwdriver is sufficient for sensor teaching.
The EHEDG-compliant design in stainless steel housing prevents any adhesion of possible contaminants. Thanks to the proTect+ sealing concept developed by Baumer, the O500 stainless steel sensors also meet IP 69K protection requirements in the long term for maximum chemical resistance and service life.
The diagnostic and parameterization capabilities integrated in the sensor can be used over IO-Link to optimize processes in demanding environments, such as the food industry. The benefits come from fast and automated commissioning, individually optimized maintenance and significantly increased process reliability by on-time sensor condition analysis and process-optimized corrective action.
Featured Product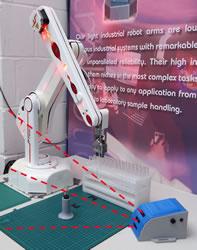 ST Robotics have decades of experience in industrial robots having sold hundreds of robots over the years. The company has 3 main models, R12, R17 and R19 all using a unique simple industrial technology that dramatically reduces costs resulting in the lowest priced industrial robots available. The same uncomplicated technology vastly improves reliability. ST backs this up with a 2 year warranty. Typical applications are routine testing, sample handling and also education. The software is a different paradigm from most robots. It is command based; you type a command and see immediate action. Programming is a building block approach, building confidence as you program in small 'mind-sized bytes'. ST offers free unlimited technical support.