UK-based global mining major, Anglo American, partners with Autonomous Solutions, Inc. for a multi-year, autonomous haulage program.
Petersboro, Utah December 15, 2014

Representatives from Anglo American recently announced their partnership with Autonomous Solutions, Inc. (ASI). The goal of the multi-year relationship is to deliver enhanced productivity, sustainability, and safety through mining vehicle automation systems for the company's haulage operations. The joint effort is part of Anglo American's FutureSmart initiative through which the company is partnering with third party technology groups like ASI to drive innovation within the mining industry.
Facing challenges such as lower commodity prices, declining grades of ore deposits, and difficulty of access to ore bodies, the mining industry "needs to leap forward twenty years in five," said Tony O'Neill, Anglo American's Group Director for Technical and Sustainability, at the Dassault Systemes 3DExperience Forum in November. To help drive this innovation, Anglo American is working with ASI automation engineers to create fully autonomous, teleoperated, and remote control haulage operations.
"Anglo American is at the forefront of innovation in the mining industry and they have been the ideal partner in creating disruptive mining solutions," said President and CEO of ASI, Mel Torrie. As Anglo American's OEM-independent automation partner, ASI leverages more than fourteen years of experience developing robotic solutions for the mining, farming, automotive, industrial, and military industries. Development and testing of the autonomous mining systems have already commenced with active field trials with Anglo American and at ASI's new 100 acre mining proving ground in northern Utah.
Featured Product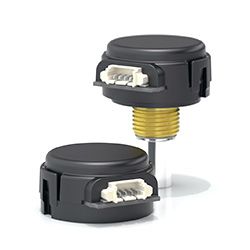 US Digital is pleased to announce the launch of the E4T, their latest series of miniature high performance optical encoders. The E4T series delivers a marked performance increase over similar encoder models and designed to be an enhanced replacement for the E4P encoder series. The E4T utilizes state of the art transmissive optical sensing technology, and incorporates US Digital's own proprietary OptoASIC. Assembly of the E4T is simple and efficient and retains the previous E4P's form factor. Key features of the new E4T include: • Mechanically and Electrically Interchangeable with E4P • Improved Quadrature Signal Strength • 100 kHz Frequency Response • Transmissive Optical Design • Collet Style Push on Optical Disk Design (Patent Pending) • Simple & Efficient Assembly Process As with all of our products the E4T is designed and manufactured in their Vancouver, Washington USA facility and is available for purchase as of December 2014.