New YIELDAS 3000 deboning system delivers advanced automation, excellent product yields and labor savings.
Gainesville, GA January 13, 2015

Gainco, Inc., a leading manufacturer of yield management systems and supplier of X-ray and metal detection equipment for meat and poultry processors, will introduce Mayekawa's new YIELDAS 3000 front half deboning system for chicken at the International Processing & Production Expo (IPPE) on January 27-29, 2015 in Atlanta, Ga.
Gainco is Mayekawa's exclusive authorized distributor of automated deboning equipment and systems for the poultry processing industry in the United States.
The YIELDAS 3000 system incorporates the latest advancements in automated deboning technology for chicken front halves, delivering precision automation, excellent product yields and labor savings to processors. The space-saving, linear-shaped system can process up to 3,000 front half halves per hour (50 front halves per minute).
The YIELDAS 3000 automatically creates filets or a butterfly product once the front halves are fed into the machine. The tenders are precut and removed and the whole wings are discharged. The carcass is also discharged to render.
The YIELDAS 3000 system can accommodate nearly any size bird, with pre-processed bird weights ranging from approximately 5 lbs. to nearly 8 lbs. and front half weights from 2 lbs. to 3.5 lbs. (900 g. to 1,600 g.).
"Automated simplicity" best describes the way the YIELDAS 3000 operates. The equipment senses even subtle differences in the shape, size and firmness of poultry parts, thanks to the precision measuring capabilities that are integral to the system. Once front halves are loaded, the key function steps include:
*Precision shoulder slitting
*Breast portions are discharged either as filets or butterfly
*Tenders are discharged
*Both whole wings are cut and discharged
*The remaining carcass is discharged to render
Designed for durable, long-life performance as well as operating efficiency, the YIELDAS 3000 equipment operates extremely well in low-temperature and high-moisture operating conditions.
The accuracy and efficiency of the system helps deliver significant labor savings to poultry processors, too. Moreover, only minimal training is required to operate the machine.
The YIELDAS 3000 machine weighs approximately 13,230 lbs. and features a space-saving linear footprint: 39 ft. long by 3.5 ft. wide by 9 ft. high.
The YIELDAS 3000 system and other Mayekawa and Gainco products for poultry and meat processors will be on display at the International Processing & Production Expo (IPPE) in Atlanta, Ga., on January 27-29, 2015 at Gainco Booth B-5653.
About Mayekawa
Established in 1924, Japan-based Mayekawa is one of the world's leading food equipment businesses involved in automation development and refrigeration compressors. The company's products incorporate the most advanced robotic technologies. Mayekawa is a pioneer in blending proven robotic technology with automation for meat deboning process applications. In addition to delivering precision operation and high meat yields, each Mayekawa product is designed to achieve outstanding labor savings along with energy and water conservation.
About Gainco, Inc.
Gainco, Inc. is a leading U.S.-based supplier of yield management systems, food safety systems, plus weighing, sizing and distribution systems for the meat, poultry and seafood processing industries. The company offers design engineering, equipment manufacturing and systems delivery/installation for processing facilities nationwide and outside the U.S. It also offers comprehensive equipment service through its Blue Ribbon Service unit.
Gainco also maintains distribution and reselling business relationships with several important international firms including Mayekawa, Fortress Technology and Anritsu Industrial Solutions.
Featured Product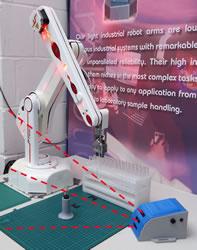 The 6-axis version of the R17HS high speed variant of the R17 robot is now available. As is our policy the 6th axis is an optional bolt-on module. At the same time we have made it even faster and new software eliminates shake and greatly improves repeatability as this video shows. Please see https://www.youtube.com/watch?v=3wG0MeiJ-yE. The video would seem to imply a repeatability of 0.01mm but we are sticking with 0.2mm in the spec. The motor specialist was able to tune the motors from the other side of the pond. My first reaction when we put power on and entered the first commands was to jump back in amazement (and maybe an expletive). Tip speed is now 3m/s; that's 3 times as fast as its nearest competitor yet costs half the price. I love it when a plan comes together.