R&D Technologies posted a 482 percent increase in sales for three consecutive years
Minneapolis & Rehovot, Israel - Jan. 14, 2015 - Stratasys Ltd. (Nasdaq:SSYS), a global leader of 3D printing and additive manufacturing solutions, announced that its reseller R&D Technologies, has been named the fastest-growing technology company in Rhode Island by Providence Business News.

Led by the father and son team of CEO Andy Coutu and President Justin Coutu, R&D Technologies posted a 482 percent sales growth from 2011-13, giving it the top spot on Providence Business News' fastest-growing technology companies list. Providence Business News ranks companies in Rhode Island that demonstrate sales growth percentage for three consecutive years.
"We have experienced some remarkable growth over the past three years, both financially and as a team. As a reseller of Stratasys 3D Printers, we believe the future of additive manufacturing is limitless. We will continue to grow while supporting New England with its 3D printing needs," says Andy Coutu.
R&D Technologies sells the full line of Stratasys commercial 3D Printers, which includes FDM, PolyJet and WDM Technology. Adding to its success, R&D Technologies operates a prototyping service bureau and offers 3D CAD support.
"The impressive revenue growth for R&D Technologies within three years is quite an accomplishment," says Gilad Gans, President, Stratasys North America. "They are the only 3D printing reseller in Rhode Island, and we are proud to have them representing Stratasys."
Featured Product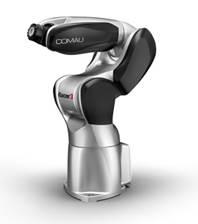 Racer3 is a powerful, high-speed, 6-axis articulated robot featuring a payload of 3kg and a reach of just 630 mm. Built from high-strength aluminum, the newest innovation in Comau robotics is lightweight and can be easily mounted on benches, walls, ceilings or on inclined supports. The third robot within the award-winning Racer family, Racer3 is Comau's response to the growing demand for fast, cost-effective robotic automation within small to medium-sized enterprises and emerging countries. Racer3 is intended for general industry use to increase productivity and reduce overall costs by automating industrial applications. It combines field-proven technology and enhanced dexterity with a keen focus on safety, design and product aesthetics. With a streamlined design and brushed metal exterior, the new powerhouse of a robot combines beauty and speed together with absolute precision and repeatability. Primary applications include assembly, material handling, machine tending, dispensing and pick & place.