Precision Glass & Optics will be showcasing precision optical thin film products at SPIE Photonics West Booth # 4334, The Moscone Center, San Francisco, CA, from Feb. 10-12, 2015.
Jan. 20, 2014 - Santa Ana, CA - Precision Glass & Optics (PG&O - www.pgo.com) proudly announces the company's 30th anniversary of providing optical manufacturing, customized optical solutions, and precision thin film coatings for a variety of industries. Founded in 1985 by Dan Bukaty, Sr., the family-owned company has grown from a start-up with a dream, to an 18,000 sq. ft., state-of-the-art facility that offers specialized optics, precision thin films, optical fabrication, complex assemblies, and custom solutions. Cost-effective, off-the-shelf thin films are also available, including UV, IR, AR, BBAR, cold mirror plate, hot mirrors, aluminized mirrors, plate beamsplitters, ITO, MaxRs, and more.

According to President Dan Bukaty, Jr., "We are pleased to announce the anniversary of our 30th year in the photonics market. Still privately held, our company continues in the tradition my dad started - to be the 'go to' precision optics company that gets the job done, on time and on budget, always going the extra mile for our customers."
With a large, in-house glass substrates inventory, PG&O can provide quick turnaround on a wide array of flats, prisms, and beamsplitters. The company also offers optical solutions and assemblies to meet custom requirements. A full range of cost-effective thin film filters feature anti-reflective, heat resistant, dichroic, dielectric, and metal for commercial and custom applications. Highly precise optical coatings can be designed and specified up to 24-inches diameter to meet exact angle and wavelength requirements for custom applications. Industries served include imaging, display, projection, scanning, defense, medical, aerospace, industrial instrumentation, and more.
For more information, please go to www.pgo.com, or come to SPIE Photonics West, The Moscone Center, San Francisco, California, and visit PG&O's booth # 4334 in North Hall, Feb. 10-12, 2015.
Featured Product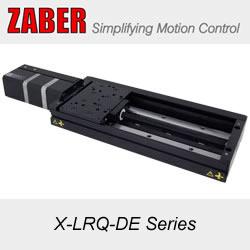 Zaber's new and improved stage (X-BLQ-E) is a closed-loop, belt-driven motorized linear stage with built-in motor encoder and controller. With travel lengths up to 3 m, 10 µm repeatability, and a maximum speed of 2.0 m/s, X-BLQ-E stages are perfect for rapid positioning over large distances. A built-in motor encoder allows closed-loop operation and slip/stall recovery, and an optional indexed knob provides manual control for operation without a computer. Like all Zaber products, the X-BLQ-E Series is designed for easy set-up and operation.