Presentation Media, Inc. launches new DEPTH service bureau devoted to B-to-B modeling, rapid prototyping and product development. DEPTH brings 3D to the Marketing Department.
Gardena, CA January 21, 2015

Presentation Media, Inc. (PMI) announced today that it has launched DEPTH, a 3D Additive Manufacturing Service Bureau, to complement its comprehensive array of graphics products and services. PMI entered the 3D Additive Manufacturing business in 2007, and serves primarily aerospace and other hi-tech industries with rapid prototyping and modeling services. Due to unprecedented customer interest and demand, PMI now offers its 3D imaging capabilities to the advertising specialty, corporate graphics and events management industries.
The company's latest equipment addition is the 3D Systems ProJet 3510 Professional 3D Printer, which will manufacture objects up to 11.75" x 7.3" x 8" and is designed specifically for models, high definition patterns and precision casting. A high-resolution scanning device allows system portability and enables the company to capture images at client sites, while output is accomplished at DEPTH'S Gardena headquarters.
While industry attention has focused on modeling and prototyping, DEPTH has established a major presence in the advertising specialty and corporate communication spaces. MarCom managers have discovered in DEPTH a comprehensive and creative source for truly unique branded products.
PMI CEO Nathan Nielson adds, "3D additive manufacturing revolutionizes product development much the same way robotics forever changed the assembly line. 3D connotes immediacy, creativity and flexibility. What was once considered wishful thinking is now a reality for product designers." Nielson drew a parallel to technology developed for military application. "3D was, until recently, the exclusive domain of science and engineering. Today, it's found a new home in the marketing department."
PMI is a full service graphic support organization providing computer-generated presentation and technical art, reprographics, multimedia, photographic processing and printing, and large format displays and exhibits.
For more information about PMI, DEPTH, or the ProJet 3510 3D Professional system, please visit http://www.depth3dprinting.com, or contact Nathan Nielson at (310) 644-7999 / nnielson(at)presentationmedia(dot)com; http://www.depth3dprinting.com
Featured Product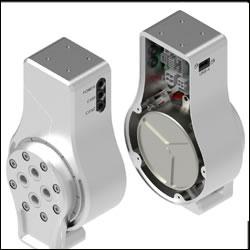 maxon launches the next generation of positioning controllers - the EPOS4. A high performance module with detachable pin headers and two different power ratings. With a connector board, the modules can be combined into a ready-to-install compact solution. Suitable for efficient and dynamic control of brushed and brushless DC motors with Hall sensors and encoders up to 750 W continuous power and 1500 W peak power. The modular concept also provides for a wide variety of expansion options with Ethernet-based interfaces, such as EtherCAT or absolute rotary encoders.