The new exhibit area, will feature dozens of aerial robotics companies, a flying cage, demonstration area with seating, and daily sessions.
WASHINGTON, D.C. -- The 2015 NAB Show, held April 11-16, will feature a new Aerial Robotics and Drone Pavilion, presented by Drone Media Group in partnership with NAB Show. The new exhibit area, located in the South Upper Hall of the Las Vegas Convention Center, will feature dozens of aerial robotics companies, a flying cage, demonstration area with seating, and daily sessions.

The Pavilion is sponsored by DJI Innovations, a worldwide leader in unmanned aerial systems and media acquisition technology.
"Unmanned aerial systems are increasingly being used to cover live events and breaking news, and in industries such as real estate, law enforcement, search and rescue, and more," said Mannie Frances, Drone Media Group. "Drones were one of the hottest technologies at the 2014 NAB Show. We are excited to unveil the Aerial Robotics and Drone Pavilion in 2015."
Exhibitors currently participating in the Pavilion include DJI, Canon, Amimon, DSLR Pros, XFly Systems, TeraLogics, Go Professional Cases, ArrowData, Sky High Media, ZM Interactive and Unmanned Vehicle University.
The Pavilion will also feature sponsored presentations daily from 9:15 a.m. - 6:00 p.m. Topics include laws and regulations surrounding drones, the use of drones for news gathering, drones in space (NASA Project Case Study), capturing aerial video and employing range extenders.
About NAB Show
NAB Show, held April 11-16, 2015 in Las Vegas, is the world's largest electronic media show covering the creation, management and delivery of content across all platforms. With 98,000 attendees from 159 countries and 1,600+ exhibitors, NAB Show is the ultimate marketplace for digital media and entertainment. From creation to consumption, across multiple platforms and countless nationalities, NAB Show is home to the solutions that transcend traditional broadcasting and embrace content delivery to new screens in new ways. For complete details, visit www.nabshow.com.
About NAB
The National Association of Broadcasters is the premier advocacy association for America's broadcasters. NAB advances radio and television interests in legislative, regulatory and public affairs. Through advocacy, education and innovation, NAB enables broadcasters to best serve their communities, strengthen their businesses and seize new opportunities in the digital age. Learn more at www.nab.org.
Featured Product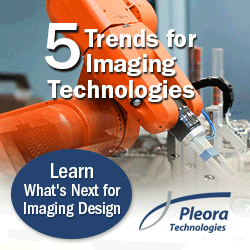 Technology development moves at a dizzying pace and the machine vision industry is no exception. Specific to imaging there is consistent innovation aimed at improving efficiencies, costs, and intelligence. Over the past 12 months, for example, new USB3 Vision™ products have driven the design of higher bandwidth, plug-and-play solutions for imaging applications. What's next for machine vision? This article examines five trends that are expected to influence imaging system design. Sign up at right to receive news and updates on the latest vision technology for medical imaging and you'll receive Five Trends for Imaging Technologies free!