Smart grid innovation features "bird-on-a-wire" sensors for quick, safe installation on the distribution grid
WALTHAM, Mass., Feb. 3, 2015 -- QinetiQ North America (QNA) today introduced the LineWatch electric power distribution grid sensing and monitoring system at the 2015 DistribuTECH Conference & Exhibition in San Diego, California. LineWatch monitors low (600 volts) and medium (36 kilovolts) voltage applications.

LineWatch measures fault detection, voltage and current to near revenue grade (.5%) levels of accuracy and other key power line conditions. This allows utility companies to remotely monitor and manage their networks, effectively delivering an immediate, positive effect on operating expenses and customer satisfaction.
The "bird-on-a wire" LineWatch sensors do not require a neutral connection and are installed using a standard industry hot stick more quickly and safely than standard medium voltage pole meters. This reduces deployment costs and and the overall total cost of ownership. LineWatch uses a Cisco-certified IPV6 mesh design and accommodates other communications protocols via an Ethernet port or dedicated Network Interface Card (NIC).
"LineWatch enables greater grid awareness, enabling utilities to better manage their systems and improve operating efficiencies while also improving customer service and satisfaction," says Mark Federle, managing director for QinetiQ North America's Smart Grid Solutions. "The ease and speed of LineWatch installation greatly reduces the total cost of ownership and provides the business case for broad deployment of power line sensors across the distribution network."
About QinetiQ North America
QinetiQ North America (QNA) is a subsidiary of QinetiQ Group plc, the FTSE250 company listed on the London Stock Exchange (LSE: QQ.L). QNA delivers world-class technology and revolutionary products to the defense, security, commercial, utility and transportation markets. Customers rely on QNA products to increase situational awareness, aid in personal safety, enhance security and streamline operations. QNA products include unmanned systems, warfighter protection, power sensors and control systems and transportation safety solutions. QNA is headquartered in Waltham, Massachusetts and operates as the US arm of QinetiQ Group's Global Products division. For more information, visit www.qinetiq-na.com.
Featured Product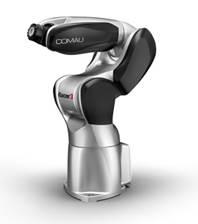 Racer3 is a powerful, high-speed, 6-axis articulated robot featuring a payload of 3kg and a reach of just 630 mm. Built from high-strength aluminum, the newest innovation in Comau robotics is lightweight and can be easily mounted on benches, walls, ceilings or on inclined supports. The third robot within the award-winning Racer family, Racer3 is Comau's response to the growing demand for fast, cost-effective robotic automation within small to medium-sized enterprises and emerging countries. Racer3 is intended for general industry use to increase productivity and reduce overall costs by automating industrial applications. It combines field-proven technology and enhanced dexterity with a keen focus on safety, design and product aesthetics. With a streamlined design and brushed metal exterior, the new powerhouse of a robot combines beauty and speed together with absolute precision and repeatability. Primary applications include assembly, material handling, machine tending, dispensing and pick & place.