World's first fully automatic 3D design tool for additively manufactured gripper fingers
01-27-2015 - SCHUNK eGrip is the world's first fully automatic 3D design tool for additively manufactured gripper fingers, and is now available for free on the SCHUNK website. Minimal data are required for the fully automatic calculation of the optimal 3D contour, pricing, and delivery time. The license-free, browser-based web tool from the competence leader for clamping technology and gripping systems, SCHUNK reduces the design and ordering time for customized gripper fingers to only 15 minutes.

With the intelligent software, which is available around the clock and doesn't require a separate CAD program, the user has to upload the workpiece or component as a STEP or STL file and enter additional specific information, such as the weight, installation position of the gripper and finger length. In a few seconds, the user receives a detailed offer containing the 3D contour, the delivery time, and the price. SCHUNK eGrip can quickly calculate even complex geometries. Users can either order the top jaws right away or save the offer and retrieve it later. In addition, the outer contour of the generated assemblies, consisting of the gripper, top jaws and workpiece, can be downloaded in STL format for immediate use in the system design.
Enormous time and cost advantage
The affordable additively manufactured SCHUNK top jaws can be quickly manufactured and are made of lightweight, wear-resistant polyamide 12, in either white or black. For use in pharmaceutical and medical applications, top jaws are also available in FDA-approved polyamide 12. Since polyamide is resistant to chemicals and suitable for use with foods, it can also be reliably used in connection with aggressive media. Due to their low weight, the top jaws are ideal for minimizing cycle times and power consumption of systems; they can also be used with smaller robots or handling systems. In combination with the SCHUNK BSWS quick-change jaw system grippers can be re-equipped for a new parts spectrum within seconds. In the first phase, SCHUNK eGrip top jaws are available for SCHUNK universal grippers PGN-plus 40 to 125, for SCHUNK small component grippers MPG-plus 20 to 64, and for the electric SCHUNK 2-finger parallel gripper EGP 25 and 40. Other series are planned.
Featured Product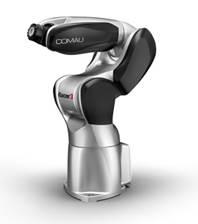 Racer3 is a powerful, high-speed, 6-axis articulated robot featuring a payload of 3kg and a reach of just 630 mm. Built from high-strength aluminum, the newest innovation in Comau robotics is lightweight and can be easily mounted on benches, walls, ceilings or on inclined supports. The third robot within the award-winning Racer family, Racer3 is Comau's response to the growing demand for fast, cost-effective robotic automation within small to medium-sized enterprises and emerging countries. Racer3 is intended for general industry use to increase productivity and reduce overall costs by automating industrial applications. It combines field-proven technology and enhanced dexterity with a keen focus on safety, design and product aesthetics. With a streamlined design and brushed metal exterior, the new powerhouse of a robot combines beauty and speed together with absolute precision and repeatability. Primary applications include assembly, material handling, machine tending, dispensing and pick & place.