Having developed and designed the Robotics.org (RIA), VisionOnline.org (AIA), and A3Automate.org websites, AIMG's launch of MotionControlOnline.org for MCA marks its successful completion of all 4 websites for the Association for Advancing Automation organizations.
Lake Success, New York February 28, 2015

AIMG recently launched MotionControlOnline.org - the new website it developed for the Motion Control Association (MCA). After having successfully designed and developed the website for the Robotic Industries Association, AIMG was subsequently contracted to design and develop VisionOnline.org for the Automated Imaging Association (AIA), A3Automate.org for the Association for Advancing Automation (A3), and most recently the MCA website.
"The MCA website is a fully customized, robust web application developed specifically around our clients organizational goals with growth and scalability in mind" said Joe DeMicco, President & Founder of AIMG. "As with the other A3 organization websites we designed and developed, the MCA website serves a number of diverse, targeted buyer personas on the front-end and numerous administrative functions on the backend. While working closely with the client to understand the website's requirements, we develop detailed wireframe models that accurately map the maturation of navigation and functionality. The wireframes make it easy for the client to express their needs and wants while helping us to share with them their available options for getting the results they're after."
AIMG developed the website using responsive web design to enable easy access from virtually any web-enabled device. "All websites need to be responsive now because the use of smartphones, "phablets", and tablets is ubiquitous," said DeMicco. "What is important to understand about proper responsive web design is that it does not mean that your desktop website simply shrinks to fit a smaller screen. What and how the information displays has to be strategically planned to ensure integrity of brand identity as well as optimal user experience and marketing impact. We help our clients through the process of clarifying the essential information that must show up on the smaller screen - as the intent of a mobile user may be different from that of a desktop user - so that we are able to create a website experience that fulfills the client's business objectives no matter what device it is being accessed from."
The new Motion Control Association website designed by AIMG can be accessed by visiting http://www.motioncontrolonline.org from any web-enabled device.
About AIMG
Established in 1994, AIMG is a HubSpot certified marketing and web development firm that works with companies of all sizes as a marketing and business development partner. Over the past two decades, AIMG's diverse team of in-house specialists have worked on thousands of successful web development, branding, sales/lead generation, and new market penetration projects, becoming a trusted partner to small business, medical, industrial B2B, non-profit, and corporate enterprises. With extensive experience working with marketing managers and business owners from start-ups to Fortune 500s, AIMG is valued for its deep knowledge of the digital landscape and custom strategies based on clients' unique needs and goals. Watch AIMG's Small Business Solutions video to learn more about how AIMG brings business to Business. Visit http://www.aimg.com or call toll free 1-888-291-0037 to learn more.
Featured Product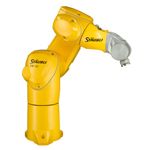 Stäubli offers a complete range of robotic tool changing systems for payloads of 20 kg to 1,530 kg and torsion moments from 30 to 12,500 Nm, designed for use in virtually every industry. The tool changers adapt to customer-specific applications with different modules for media, data, power, etc. The new MPS 130 robotic tool changer is powerful, very robust, and designed for a huge range of applications. It features multiple couplings for air/vacuum connections, and can be equipped with connectors for data and electrical transmission. Very compact dimensions, with a coupled height of only 67 mm, make the MPS 130 the first choice for applications requiring a high number of mating cycles.