03-02-2015 - The SCHUNK EGL 70 mechatronic parallel gripper combines power and intelligence: with variable gripping force between 50 and 600 N it is one of the most powerful and flexible mechatronic grippers on the market and was specifically developed for industrial applications. Since the finger position, closing speed, and gripping force are freely programmable within a maximum stroke of 48 mm per finger, diverse components with a weight of up to 3 kg can be precisely handled in force-fit gripping. The gripper fingers can be prepositioned to reduce cycle times.

The entire control and power electronics of the EGL are integrated to save space and to allow decentral operation and even mobile use, thanks to the 24V DC operating voltage. Standard Profibus DP and CAN-Bus interfaces allow fast and easy integration in higher level system controllers. The gripper also features a USB-port as a service interface. A brushless servo motor ensures continuous and reliable operation with no maintenance required. To maintain the position in the event of a power outage the gripper features an electrically operated brake. Since the EGL fulfills industrial standards and the basic version is connected only by means of industrial connectors, installation time is reduced to a minimum. The powerful mechatronic gripper is compatible with the world's most extensive standardized line of modules for gripper systems from SCHUNK. In combination with quick-change systems and other robot accessories it can significantly increase the flexibility and efficiency of handling processes. It is ideal for diverse applications in the field of industrial assembly technology, mechanical engineering, and lab automation.
Featured Product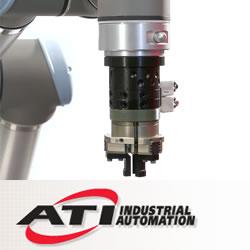 The ATI Robotic Tool Changer provides the flexibility to automatically change end-effectors or other peripheral tooling. These tool changers are designed to function reliably for millions of cycles at rated load while maintaining extremely high repeatability. For this reason, the ATI Tool Changer has become the number-one tool changer of choice around the world. ATI Tool Changer models cover a wide range of applications, from very small payloads to heavy payload applications requiring significantly large moment capacity.