System Controls Up to 100 Robots for Large Deployments in Manufacturing, Warehousing/Logistics and Semiconductor
Pleasanton, Calif., March 12, 2015 - Adept Technology, Inc. (Nasdaq:ADEP), a

leading provider of intelligent robots, autonomous mobile solutions and
services, today announced that it has launched Lynx Enterprise Manager 1100,
a new fleet management system for Adept's Lynx autonomous intelligent
vehicles (AIVs). Lynx Enterprise Manager 1100 controls all aspects of
operating a fleet of Lynx mobile robots, coordinating as many as 100
vehicles simultaneously to enable large-scale deployments for
warehousing/logistics, manufacturing and semiconductor applications.
"Adept Lynx AIVs are an effective, autonomous method for moving goods
throughout large warehouses and factories, improving efficiency and
flexibility, and lowering costs," said Michael Oitzman, senior product line
manager of Mobile Robots at Adept. "Lynx Enterprise Manager 1100 is a
powerful, easy-to-deploy platform that can manage every aspect of a
substantial Lynx mobile robot workforce."
Lynx AIVs provide rapid, traceable material movement in highly dynamic
environments such as warehouses, distribution centers and factories. Unlike
traditional AGV systems, Lynx vehicles intelligently self-navigate, avoiding
obstacles and selecting the best path to complete a task. The Lynx
Enterprise Manager 1100 is a powerful tool for controlling a Lynx fleet,
coordinating vehicle configuration, task allocation and traffic control, and
interfacing with a user's existing enterprise management system.
Adept will showcase the Lynx Enterprise Manager 1100, along with other new
industrial and mobile robot technologies, at Automate 2015 booth 1060 on
March 23-26 at McCormick Place North in Chicago, Illinois. Attendees can
schedule booth appointments by contacting Ann Keffer, Adept worldwide
director of marketing, at Ann.Keffer@adept.com.
About Adept Technology, Inc.
Adept is a global, leading provider of intelligent robots, autonomous mobile
robot solutions, and services that enable customers to achieve precision,
speed, quality and productivity in their assembly, handling, packaging,
testing, and logistical processes. With a comprehensive portfolio of
high-performance motion controllers, application development software,
vision-guidance technology and high-reliability robot mechanisms with
autonomous capabilities, Adept provides specialized, cost-effective robotics
systems and services to high-growth markets including medical, electronics,
food and semiconductor; as well as to traditional industrial markets
including machine tool automation and automotive components. More
information is available at www.adept.com.
Featured Product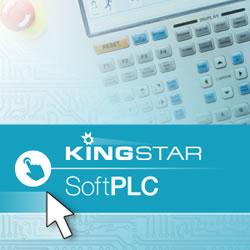 The top machine builders are switching from proprietary hardware-based PLCs, like Allen-Bradley, TwinCAT, Mitsubishi and KEYENCE, to open standards-based EtherCAT-enabled software PLCs on IPCs. KINGSTAR provides a fully-featured and integrated software PLC based on an open and accessible RTOS. KINGSTAR Soft PLC also includes add-on or third-party components for motion control and machine vision that are managed by a rich user interface for C++ programmers and non-developers alike.