Support includes Scientist Participation; Energizer Bunny Makes Special Appearance
ST. LOUIS - April 7, 2015 -To help engage youth in science and technology education, Energizer Household Products, a division of Energizer Holdings, Inc. (NYSE: ENR), is sponsoring the FIRST Championship taking place in St. Louis on April 22-25, 2015.

FIRST, or For Inspiration and Recognition of Science and Technology, was founded in 1989 to inspire interest in science, technology, engineering and math (STEM) education and careers among students ages six to 18, by engaging them in exciting mentor-based robotics programs. These innovative programs also help students build valuable life skills such as self-confidence, communication, and leadership.
The 2015 FIRST Robotics Competition (FRC) game is called RECYCLE RUSHSM. Each year, teams of high-school students design, build, program and test their robots to meet the season's new engineering challenge. The recycling theme includes game pieces that are reusable or recyclable at the end of the season.
"It is awe-inspiring to see the passion these students have for science and technology. Energizer's future innovators and inventors just might be one of these students," said Michelle Atkinson, Chief Marketing Officer for Energizer. "We are combining the high-quality performance of our products with partnerships and programs that help make a positive impact on the world. And with the launch of Energizer EcoAdvanced™, the world's first AA battery made with four percent recycled batteries, we couldn't be more excited that the 2015 FIRST Robotics Competition season has a recycling theme.
As a FIRST Championship sponsor, Energizer's support includes offering insights and access to Energizer scientists at its booth, powering the event's charging stations, and hosting a fun, educational hands-on area for students. The iconic Energizer Bunny will make a special appearance at the event in front of thousands of students, parents, coaches, mentors, volunteers, and guests. Energizer scientists also are serving as judges for the FIRST competition.
"FIRST is happy to have Energizer's support and participation as a sponsor of our annual Championship event," said Donald E. Bossi, FIRST President. "We appreciate their passion for the FIRST mission and look forward to having Energizer scientists lend their expertise as FIRST judges and Energizer employees offering support as volunteers at the FIRST Championship event."
Energizer's support of FIRST is the latest demonstration of the company's commitment to performance and responsibility. It is also fitting as Energizer EcoAdvanced is another in a long line of innovative "firsts" from Energizer in the battery category. Energizer EcoAdvanced is Energizer's highest-performing alkaline battery and powers consumers' most critical devices while creating less impact on the planet by requiring less mining of virgin material and reducing the amount of batteries consumers need to power their devices resulting in less waste.
Energizer is committed to bringing positive energy to the world by creating less waste. Energizer EcoAdvanced is the first step in creating value for recycled battery material, which until today has had little or no economic value. "Our future innovations will continue to reduce the impact Energizer batteries have on the planet. By 2025, our vision for Energizer EcoAdvanced is to increase the amount of recycled battery material ten-fold to 40 percent," said Atkinson.
About Energizer
Energizer Holdings, Inc. [NYSE: ENR], headquartered in St. Louis, MO, is one of the world's largest manufacturers of primary batteries, portable flashlights and lanterns. Energizer is a global leader in the dynamic business of providing power solutions with a full portfolio of products including Energizer brand battery products, Energizer MAX premium alkaline; Energizer Ultimate Lithium; Energizer Advanced Lithium; Rechargeable batteries and charging systems; and portable flashlights and lanterns. Visit www.energizer.com.
About FIRST
Accomplished inventor Dean Kamen founded FIRST (For Inspiration and Recognition of Science and Technology) in 1989 to inspire an appreciation of science and technology in young people. Based in Manchester, N.H., FIRST designs accessible, innovative programs to build self-confidence, knowledge, and life skills while motivating young people to pursue opportunities in science, technology, and engineering. With support from over 200 of the Fortune 500 companies and more than $20 million in college scholarships, the not-for-profit organization hosts the FIRST Robotics Competition (FRC) for students in Grades 9-12; FIRST Tech Challenge (FTC) for Grades 7-12; FIRST LEGO League (FLL) for Grades 4-8; and Junior FIRST LEGO League (Jr.FLL) for Grades K-3. Gracious Professionalism is a way of doing things that encourages high-quality work, emphasizes the value of others, and respects individuals and the community. To learn more about FIRST, go to www.usfirst.org.
Featured Product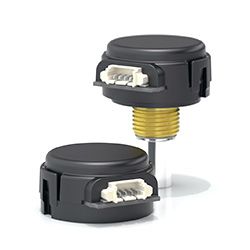 High resolution. Limited space. Not a problem for our latest miniature encoders that provides precise feedback and is easy to install within smaller-sized applications. Now available in 400 and 500 CPRs. Coming in at about the size of a nickel, we've added our proprietary Opto-ASIC sensor technology and improved quadrature for even greater motion control. Product Features: 10 resolutions up to 360 CPR, plus new 400 and 500 CPR resolution; 288 configurations available, including single and differential output; Compact form factor • 0.866 inch (in) / 22.00 millimeter (mm) package outside diameter • 0.446 in / 11.33 mm package height • Fits NEMA 8, 11, 14 and 17 motors; Simple and efficient assembly process • Four-piece construction • Push-on hub disk design, patent pending; 100 kilohertz frequency response; Shafted version up to 0.25 in / 6.25 mm diameter.