Moulding Expo taking place 5th to the 8th of May in Stuttgart, Germany
SHEFFIELD, UK, April 15, 2015 - MachineWorks Ltd, the leading software for CNC Simulation and Verification, will be demonstrating an innovative Sample Technology at Moulding Expo in Hall 4 Stand A43 from the 5th to the 8th of May in Stuttgart, Germany.Image removed by sender.

The new feature will drastically improve the quality of the graphics as well as offering outstanding performance and constant memory footprint throughout the simulation.
Taking advantage of our patented technology, the MachineWorks team has developed this advanced sampling engine with ray trace rendering that retains the details of stocks even when zoomed in. The result is an enhanced image containing surface details that would normally be lost when using a sampling technology.
This improved technology offers CNC controller manufacturers an ideal software solution for advanced 3D animation as the memory usage is not dependent on the number of cuts in the toolpath but on the grid resolution representing the stock. The customer can display true solid simulation and handle true swept volume surfaces for stock sampling with an accurate graphic representation.
The new version of the sampling engine will be available for customers in the upcoming MachineWorks release but a sneaky demo can be seen during Moulding Expo at 4A43.
About MachineWorks
MachineWorks Software sets the standard for CNC Simulation and Verification component software in the industry. More than 60% of CAM developers in the world have integrated MachineWorks technology into their applications and benefited from MachineWorks' cutting-edge functionality since 1994. MachineWorks' toolkit has been integrated by software and hardware OEMs looking for a solution in simulation of material removal and clash and gouge detection of any type of CNC machining. MachineWorks' core technology combines speed, accuracy and stability. It is ideally suited for anti-crash systems, complex machining and full machine simulation.
www.machineworks.com/
About Moulding Expo
Moulding Expo 2015 is an International Trade Fair for Tool, Pattern and Mould Making. It is held in Stuttgart from 5 to 8 May 2015 and in future take place in the state capital of Baden-Württemberg every two years.
www.messe-stuttgart.de/en/moulding-expo/
Featured Product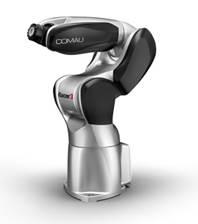 Racer3 is a powerful, high-speed, 6-axis articulated robot featuring a payload of 3kg and a reach of just 630 mm. Built from high-strength aluminum, the newest innovation in Comau robotics is lightweight and can be easily mounted on benches, walls, ceilings or on inclined supports. The third robot within the award-winning Racer family, Racer3 is Comau's response to the growing demand for fast, cost-effective robotic automation within small to medium-sized enterprises and emerging countries. Racer3 is intended for general industry use to increase productivity and reduce overall costs by automating industrial applications. It combines field-proven technology and enhanced dexterity with a keen focus on safety, design and product aesthetics. With a streamlined design and brushed metal exterior, the new powerhouse of a robot combines beauty and speed together with absolute precision and repeatability. Primary applications include assembly, material handling, machine tending, dispensing and pick & place.