ROBOTIC APPLIQUE KIT FOR HEAVY VEHICLES AND MACHINERY
ATLANTA, May 5, 2015 -- AUVSI North America 2015, at Booth #1437, Kairos Autonomi, the worldwide leader in robotic applique kits, displays its latest technology, the Pronto4 Heavy, designed specifically for usage with heavy equipment and machinery.

Equipped with larger gear faces, stronger actuators than its predecessors, and a pathing upgrade, the Pronto4 Heavy delivers the increased torque needed to control the traction, braking, throttle and implements in heavy vehicles and equipment as well as smarter robotic functions such as GPS path following and supervised autonomous behaviors.
The robotic applique kit is platform independent, meaning it can be installed in any heavy vehicle or machine, rendering that vehicle optionally unmanned, which means the equipment can still operate manually as needed.
About Kairos Autonomi
A Greek word that means the right or opportune moment, Kairos is a world leader in Robotic Applique Kits, add-on vehicle autonomy systems that provide unmanned capabilities to current manned vehicles, rendering them optionally unmanned. The Pronto4 Robotic Applique Kit manufactured by Kairos is used throughout the world to convert existing man-operable ground vehicles and surface vessels into unmanned systems. Whether it's government or academic research and development; military training and test and evaluation; range clearance; mining; or tactical military applications, Kairos delivers reliable, rugged, cost-effective robotic vehicle technology. Find out more at
www.kairosautonomi.com.
Featured Product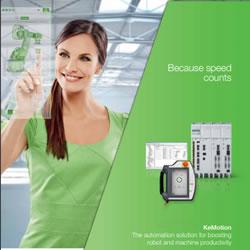 Challenges in the field of visualization are extensive, ergonomics and an intuitive user interface are key factors for efficient operation and monitoring. At KEBA, you will find the right operation solution for every application as a complete package without additional investment. KeTop provides high-performance, application-optimized hardware and software which ensure future reliability. Step-by-step customizing and comprehensive consultation in all questions having to do with visualization allow for maximum differentiation of your HMI solution.