100 percent of ClearCorrect dental models are now 3D printed ---- Digital dentistry workflow allows prompt scale-up with demand
Minneapolis and Rehovot, Israel - May 12, 2015 - Stratasys Ltd. (Nasdaq:SSYS), a leading global provider of 3D printing and additive manufacturing solutions, announced today that ClearCorrect LLC, a leading manufacturer of clear aligners, has incorporated an additional batch of Objet Eden500V 3D Printers to its sizable fleet of Stratasys 3D Printers. With this addition, ClearCorrect will now realize a 30 percent increase in its capacity to produce custom-made orthodontic aligners.

Stratasys' 3D Printers are a key component of the ClearCorrect manufacturing process. With the use of the Objet Eden500V 3D Printer, the company can quickly print 3D models throughout each step of a patient's orthodontic treatment. The process begins with a digitized scan of a patient's mouth. This scan is used to create accurate 3D printed models, which are then thermoformed with a specially formulated plastic to create custom, clear aligners. When worn, the aligners will apply pressure to the patient's teeth that need to be moved. Every two to three weeks, the patient will begin wearing a new set of aligners to continue the realignment process until treatment is complete.
The additional Stratasys 3D Printers that ClearCorrect has added will benefit their customers by shortening the company's lead times, and also by helping to accommodate rush orders. ClearCorrect's previous investment in the Objet series of 3D Printers has been realized several times over with optimized workflows, faster production, and delivery of clear aligners on a mass scale; all at a lower cost per case.
"Initially we started with just a few 3D printers, and we have quickly transitioned to full production, where 100 percent of our models are now 3D printed," said Jarrett Pumphrey, CEO of ClearCorrect. "We're growing fast and adding more Stratasys 3D Printers to our digital workflow means that we can easily scale up with demand—enabling us to service more doctors with faster delivery times."
"The 3D printers alone are not the only reason for working with Stratasys," added Pumphrey. "Stratasys really stands behind their 3D printers, and we are extremely happy with the dedicated support we receive from their technicians and customer support team."
"We wanted to help the ClearCorrect team take their already booming business to new levels," said Avi Cohen, Director of Global Dental at Stratasys. "The versatility of the Objet Eden500V 3D Printers gives ClearCorrect the ability to efficiently manufacture high quality aligners on a mass scale, expand in existing markets, and enter new markets. The decision to expand their 3D printing operation demonstrates how Stratasys has earned ClearCorrect's trust through reliable performance and customer support."
Stratasys Ltd. (Nasdaq:SSYS), headquartered in Minneapolis, Minnesota and Rehovot, Israel, is a leading global provider of 3D printing and additive manufacturing solutions. The company's patented FDM and PolyJet3D Printing technologies produce prototypes and manufactured goods directly from 3D CAD files or other 3D content. Systems include 3D printers for idea development, prototyping and direct digital manufacturing. Stratasys subsidiaries include MakerBot and Solidscape, and the company operates the digital parts manufacturing service, Stratasys Direct Manufacturing. Stratasys has more than 2,800 employees, holds over 600 granted or pending additive manufacturing patents globally, and has received more than 25 awards for its technology and leadership. Online at: www.stratasys.com or http://blog.stratasys.com
Featured Product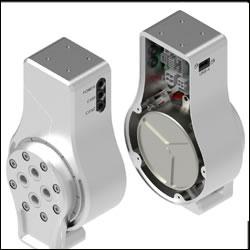 maxon launches the next generation of positioning controllers - the EPOS4. A high performance module with detachable pin headers and two different power ratings. With a connector board, the modules can be combined into a ready-to-install compact solution. Suitable for efficient and dynamic control of brushed and brushless DC motors with Hall sensors and encoders up to 750 W continuous power and 1500 W peak power. The modular concept also provides for a wide variety of expansion options with Ethernet-based interfaces, such as EtherCAT or absolute rotary encoders.