This new operating system is expected to be revealed by Microsoft on July 29, 2015.
WOBURN, MA, JUNE 26, 2015 -- BitFlow, the world's leading innovator of frame grabbers for machine vision, semi-conductor and scientific imaging, today announced official support for the Windows 10 operating system for its entire portfolio of frame grabber products. Microsoft Windows 10 combines the speed and reliability of Windows 8 with the professional usability of Windows 7. This new operating system is expected to be revealed by Microsoft on July 29, 2015.

BitFlow adds Windows 10 to an extensive list of operating systems already supported by its Software Development Kit (SDK), including the robust multitasking and multiprocessing performance benefits of Windows XP/2003/2008/Vista/Windows 7/Windows 8.
The BitFlow SDK is compatible with the company's Alta, Neon, Karbon, Cyton, R3, Road Runner frame grabbers, allowing imaging application developers to take full advantage of their host computer's capabilities. Development libraries provide hardware access and display functions. Working example applications, complete with MS Visual C++ source code, enable developers to quickly demonstrate BitFlow's products and subsequently integrate them into their applications. The Common Camera Interface Library (Ci) allows for seamless integration with all of BitFlow's products. In addition, the high level Buffer management library, known as BufIn, makes the task of writing an asynchronous, multiple host buffer application simple.
Windows 10 support requires BitFlow SDK 5.90 or later. The SDK is free to download from the company's website, www.bitflow.com, There are two versions of the SDK, the full development version and the drivers only version.
Featured Product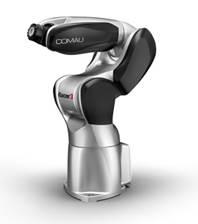 Racer3 is a powerful, high-speed, 6-axis articulated robot featuring a payload of 3kg and a reach of just 630 mm. Built from high-strength aluminum, the newest innovation in Comau robotics is lightweight and can be easily mounted on benches, walls, ceilings or on inclined supports. The third robot within the award-winning Racer family, Racer3 is Comau's response to the growing demand for fast, cost-effective robotic automation within small to medium-sized enterprises and emerging countries. Racer3 is intended for general industry use to increase productivity and reduce overall costs by automating industrial applications. It combines field-proven technology and enhanced dexterity with a keen focus on safety, design and product aesthetics. With a streamlined design and brushed metal exterior, the new powerhouse of a robot combines beauty and speed together with absolute precision and repeatability. Primary applications include assembly, material handling, machine tending, dispensing and pick & place.