This new operating system is expected to be revealed by Microsoft on July 29, 2015.
WOBURN, MA, JUNE 26, 2015 -- BitFlow, the world's leading innovator of frame grabbers for machine vision, semi-conductor and scientific imaging, today announced official support for the Windows 10 operating system for its entire portfolio of frame grabber products. Microsoft Windows 10 combines the speed and reliability of Windows 8 with the professional usability of Windows 7. This new operating system is expected to be revealed by Microsoft on July 29, 2015.

BitFlow adds Windows 10 to an extensive list of operating systems already supported by its Software Development Kit (SDK), including the robust multitasking and multiprocessing performance benefits of Windows XP/2003/2008/Vista/Windows 7/Windows 8.
The BitFlow SDK is compatible with the company's Alta, Neon, Karbon, Cyton, R3, Road Runner frame grabbers, allowing imaging application developers to take full advantage of their host computer's capabilities. Development libraries provide hardware access and display functions. Working example applications, complete with MS Visual C++ source code, enable developers to quickly demonstrate BitFlow's products and subsequently integrate them into their applications. The Common Camera Interface Library (Ci) allows for seamless integration with all of BitFlow's products. In addition, the high level Buffer management library, known as BufIn, makes the task of writing an asynchronous, multiple host buffer application simple.
Windows 10 support requires BitFlow SDK 5.90 or later. The SDK is free to download from the company's website, www.bitflow.com, There are two versions of the SDK, the full development version and the drivers only version.
Featured Product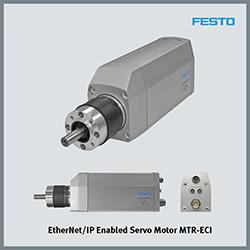 Mechatronic Motion Solutions from Festo is a unique system of components, modules, and software. It integrates all types of pneumatic, servopneumatic and (electro)mechanical automation motion and combines them according to your task. Irrespective of the control system environment you use, Mechatronic Motion Solutions always provides the appropriate interfaces. The fingers can be actively moved and their strength amplified; the operator's hand movements are registered and transmitted to the robotic hand in real time. The objectives are to enhance the strength and endurance of the human hand, to extend humans' scope of action and to secure them an independent lifestyle even at an advanced age.