International educational collaboration between students and companies results in two operable Lenze prototypes
UXBRIDGE, MA - JUNE 26, 2015 - Lenze is pleased to announce its sponsorship of a recent student project involving the Institute for Drive Technology and Power Electronics at Leibniz University in Hannover, Germany, and the Polytechnic Institute of Purdue University in West Lafayette, USA.

A leading industry specialist in drive and automation technology, Lenze sponsored the German-American team that reached the final of the Coil Winding Challenge. The Lenze-defined project was titled: "Axial integration of a decentralized Lenze frequency inverter, 8400 motec, into a three-phase AC motor." Open to university students, this inaugural challenge year was held in conjunction with the Coil Winding Expo (CWIEME) in Berlin.
Four students from each university worked on the nine month project. The student teams were tasked with finding the best new way to combine the Lenze motors and inverters. The Coil Winding Challenge looked for the best university student projects in the field of electrical engineering. From approximately 30 submitted applications, the German-American Lenze project made it into the top five, and the team was invited to present their project at the expo.
"Inverters are normally mounted on top of a motor. Often, though, depending on the machine where the motor and inverter are being used, there is not much space at the top of the motor. By contrast, there is generally more space behind the motor. So the students developed a solution which made it possible to place the inverter behind the motor. This makes the drive system more compact, easier to install, easier to reach, and easier to clean," explains Volker Grabs, Lenze Innovation. "The students also developed a way to cool the components. Using an elaborate thermal simulation of the entire system, they were able to reduce the temperature rise both in the motor and in the electronic components. This was done mainly by optimizing the design of the cooling channels around the module and inserting thermal barriers to the other components. The project resulted in two operable prototypes!"
"We are very pleased to have sponsored this important engineering development project with the international team of students from the Polytechnic Institute of Purdue University and Leibniz University. This was a very successful project in that the students achieved the design objectives, and had the experience of learning about the rewards and challenges of working with peers from across the globe, something we do every day at Lenze," said Chuck Edwards, CEO, Lenze Americas. "This project was also a further demonstration of the Lenze commitment to support STEM and engineering education in our global locations. We look forward to sponsoring additional projects like this in the future."
For the American students, the project was the final part of their degree program. Several German students wrote their Bachelor dissertations about the project. Also, Lenze Americas has gained a new employee from the American student team.
"The results provided valuable insights that we can use for future developments. For the students, the cooperation was a wonderful opportunity to work in an area of innovation, while working with partners in industry," adds Volker.
About Lenze Americas
Lenze is a global manufacturer of electrical and mechanical drives, motion control and automation technology for Motion Centric Automation. Our products can be found in many industries, including automotive, packaging, material handling and logistics, robotics, and commercial equipment (pumps/fans). A global network of distributors and representatives makes Lenze Americas perfectly positioned to meet the motion control needs of customers worldwide. Lenze Americas, the American subsidiary of Lenze SE of Germany, is headquartered in Uxbridge, Massachusetts, with an assembly and logistics center in Glendale Heights, IL. Corporate global headquarters are in Hamelin, Germany. Lenze Americas can be found online at www.Lenze.com.
Featured Product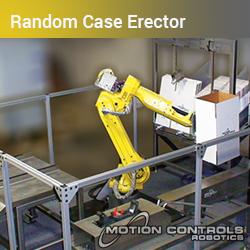 Random Case Erectors are ideal for fulfillment centers and other end-of-line packaging needs. Save money by eliminating changeover downtime. Reduce ergonomic injuries by eliminating repetitive manual tasks. The Random Robotic Case Erector System includes: • FANUC M20iA/20 Robot • Combi gravity case magazine - holds 2 box sizes • Combi bottom flap folder with integrated 3M case sealing head. • Fixed robot base, anchored to the floor • Flexible end of arm tool to pick and erect multiple case sizes to eliminate changeover downtime • System wiring and controls • Color 7.5" touchscreen HMI display for selecting case size • Perimeter guarding with safety interlocks on doors • Programming for Robot, PLC/PMC, HMI and Vision • Complete documentation in electronic format • On-site training and support • Compliance with all applicable robotic safety standards. Alternate safety configuration may be available to allow an operator to changeover a case size in one magazine while the robot continues to work in other magazines. Contact Motion Controls Robotics to learn more about how to implement this system into your current end-of-line operations.