Attendees Will Get First Look at New Robots and Applications at Adept's Booth, A116, July 8-11 in Shanghai
Pleasanton, Calif., July 2, 2015 - Adept Technology, Inc. (Nasdaq:ADEP), a

leading provider of intelligent robots, autonomous mobile solutions and
services, will showcase its latest industrial and mobile robots at the China
International Robot Show (CiROS) 2015 exhibition July 8-11. Attendees will
see live robot demonstrations at the Adept booth, including Adept's newest
industrial robot for packaging applications and new applications for Lynx
autonomous intelligent vehicles (AIVs).
"At CiROS, Adept will be unveiling a new robot for high-speed packaging
applications and demonstrating our latest mobile robot capabilities," said
Terry Hannon, chief business development and strategy officer at Adept. "We
encourage attendees to come by the Adept booth, watch the demos and learn
how our robots could increase the quality and throughput, streamline
materials transport, and lower costs in their operations."
Attendees will see:
-Introduction and live demonstration of Adept's new high-speed packaging
robot designed for advanced performance and easy deployment.
-A next-generation Lynx AIV designed to move carts with payloads up to 130
kg. Adept's Lynx products streamline materials transport applications,
increasing customers' efficiencies in warehousing, logistics and
manufacturing.
-An eCobra SCARA robot equipped with Adept's AnyFeeder for maximum
flexibility in part feeding. eCobra is Adept's newest family of 4-axis
industrial robots, offering a controller-less architecture for easy
integration and exceptional performance for high-speed packaging and
assembly.
CiROS will be held July 8-11, 2015, at the National Exhibition and
Convention Center in Shanghai, China. Attendees are encouraged to visit
Adept at booth A116, and can schedule booth appointments in advance by
contacting china@adept.com.
About Adept Technology, Inc.
Adept is a global, leading provider of intelligent robots, autonomous mobile
robot solutions, and services that enable customers to achieve precision,
speed, quality and productivity in their assembly, handling, packaging,
testing, and logistical processes. With a comprehensive portfolio of
high-performance motion controllers, application development software,
vision-guidance technology and high-reliability robot mechanisms with
autonomous capabilities, Adept provides specialized, cost-effective robotics
systems and services to high-growth markets including medical, electronics,
food and semiconductor; as well as to traditional industrial markets
including machine tool automation and automotive components. More
information is available at www.adept.com.
Featured Product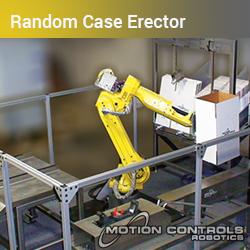 Random Case Erectors are ideal for fulfillment centers and other end-of-line packaging needs. Save money by eliminating changeover downtime. Reduce ergonomic injuries by eliminating repetitive manual tasks. The Random Robotic Case Erector System includes: • FANUC M20iA/20 Robot • Combi gravity case magazine - holds 2 box sizes • Combi bottom flap folder with integrated 3M case sealing head. • Fixed robot base, anchored to the floor • Flexible end of arm tool to pick and erect multiple case sizes to eliminate changeover downtime • System wiring and controls • Color 7.5" touchscreen HMI display for selecting case size • Perimeter guarding with safety interlocks on doors • Programming for Robot, PLC/PMC, HMI and Vision • Complete documentation in electronic format • On-site training and support • Compliance with all applicable robotic safety standards. Alternate safety configuration may be available to allow an operator to changeover a case size in one magazine while the robot continues to work in other magazines. Contact Motion Controls Robotics to learn more about how to implement this system into your current end-of-line operations.