Compact and cost-effective
The SCHUNK SRM universal rotary unit ensures high performance for production automation. It significantly stands out when compared to existing rotary modules on the market.

Compact and cost-effective, the SRM features up to 25% higher torque and internal performance shock absorbers to provide impressively higher moment of inertia capacity, as well as faster swivel times compared to the current, top-rated SCHUNK SRU-plus.
The standard SRM offers a large and robust load mounting surface and large center bore for feeding through items like cables and hoses. Modular air feed-though and electrical feed-though versions are available.
The SCHUNK SRM is available in sizes 16, 32 and 40. Other sizes and options to follow.
About SCHUNK:
SCHUNK is the worldwide competence leader for clamping technology and gripping systems. Totaling more than 60 years of experience, SCHUNK is a family owned operation and a global player in one. For more information, visit www.schunk.com
Featured Product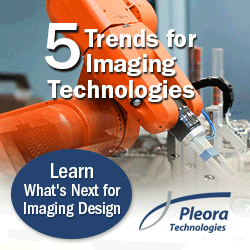 Technology development moves at a dizzying pace and the machine vision industry is no exception. Specific to imaging there is consistent innovation aimed at improving efficiencies, costs, and intelligence. Over the past 12 months, for example, new USB3 Vision™ products have driven the design of higher bandwidth, plug-and-play solutions for imaging applications. What's next for machine vision? This article examines five trends that are expected to influence imaging system design. Sign up at right to receive news and updates on the latest vision technology for medical imaging and you'll receive Five Trends for Imaging Technologies free!