Compact and cost-effective
The SCHUNK SRM universal rotary unit ensures high performance for production automation. It significantly stands out when compared to existing rotary modules on the market.

Compact and cost-effective, the SRM features up to 25% higher torque and internal performance shock absorbers to provide impressively higher moment of inertia capacity, as well as faster swivel times compared to the current, top-rated SCHUNK SRU-plus.
The standard SRM offers a large and robust load mounting surface and large center bore for feeding through items like cables and hoses. Modular air feed-though and electrical feed-though versions are available.
The SCHUNK SRM is available in sizes 16, 32 and 40. Other sizes and options to follow.
About SCHUNK:
SCHUNK is the worldwide competence leader for clamping technology and gripping systems. Totaling more than 60 years of experience, SCHUNK is a family owned operation and a global player in one. For more information, visit www.schunk.com
Featured Product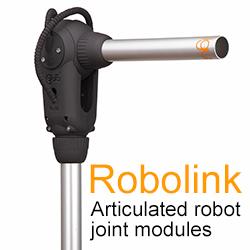 Robolink: Articulated joint modules for robots. igus® now offers a lightweight, maintenance- and corrosion-free range of robot joints for humanoid systems or other automated applications. The carbon-fiber plastic joints can rotate and oscillate freely via four wire ropes. No more expensive milling, cutting or DIY systems. Moving mass is reduced to a minimum. The actuators (engines, pneumatics and hydraulics) and the control module (DP, PC) are kept separate. Contact igus® for more information and free samples.