Investment to Increase Capacity to Meet Growing Demand for Complex Titanium Components
NEW YORK--Norsk Titanium AS (NTi), a Norway-based leader in manufacturing premium quality titanium components for industrial applications, announced today that RTI International Metals, Inc. (NYSE: RTI), a global supplier of titanium and specialty metal products and services, has become a strategic investor and minority partner with the company. RTI made an investment of an undisclosed amount for strategic cooperation projects surrounding NTi's game-changing 3D printing technology, known as Direct Metal Deposition (DMD) technology, used in NTi's patented process for the manufacture of premium quality titanium components.

"This investment is an important endorsement of the hard work and achievements of the NTi team, who are poised to accelerate the market reach of our company's game-changing technology for the production of titanium components, delivering to our customers the benefits of reduced price, shorter lead times, and increased design flexibility," said Executive Chairman of NTi's Board of Directors John Andersen, Jr.
"RTI is pleased to be a strategic industrial investor in NTi. Its DMD technology, a form of additive manufacturing or 3D printing, is a game-changer," said Dawne Hickton, Vice Chair, President and CEO of RTI. "Combining NTi's innovative technology with RTI's upstream raw materials and downstream fabrication capabilities has significant applications in the titanium closed-die forging market, with commercialization opportunities within the next 12 months."
Vice Chairman of NTi's Board of Directors Christopher E. Kubasik, who also is President and CEO of New York-based Seabury Advisory Group and a former Lockheed Martin Corporation executive, added, "NTi has entered into an incredibly exciting time as we gain this strategically important investment. We anticipate further initiatives in the near-term which will position NTi as the unquestionable global leader in advanced industrial applications for titanium components serving the fast-growing needs of such industries as aerospace & defense (A&D), oil & gas, and marine."
NTi has achieved technology readiness level six (TRL6), which demonstrates its ability to meet stringent A&D material requirements. NTi expects to achieve technology readiness level eight (TRL8) by the fourth quarter of this year. The A&D industry is the largest and most demanding segment for titanium components. In addition, oil & gas, automotive and other industries require high quality, complex titanium components. To learn more about titanium's properties and its industrial applications, visit www.norsktitanium.no.
About RTI International Metals
RTI International Metals, Inc. is a leading vertically integrated global supplier of advanced titanium and specialty metal products and services to commercial aerospace, defense, energy, medical device and other customers across the entire supply chain. For more than 60 years, RTI has been taking titanium further through advanced manufacturing and engineering processes. RTI delivers a full range of titanium mill products as well as other titanium and specialty metals products and services including extruded shapes, formed and 3D-printed parts, and precision engineered and machined components through our downstream integrated supply chain. Headquartered in Pittsburgh, PA, RTI has locations in the United States, Canada, Europe, and Asia. www.rtiintl.com
About Norsk Titanium AS
Norsk Titanium AS (NTi) is a Norway-based leader in manufacturing premium quality titanium components for industrial applications. The company has revolutionized the industry with its proprietary Direct Metal Deposition (DMD) technology that transforms titanium wire into complex components that are up to 70 - 80 percent complete. The 3D printing process involved reduces time from CAD drawings to manufacturing of finished titanium components by up to 90% and the cost by up to 70% compared to incumbent processes. www.norsktitnium.no
Featured Product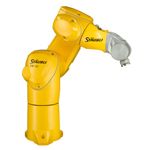 Stäubli offers a complete range of robotic tool changing systems for payloads of 20 kg to 1,530 kg and torsion moments from 30 to 12,500 Nm, designed for use in virtually every industry. The tool changers adapt to customer-specific applications with different modules for media, data, power, etc. The new MPS 130 robotic tool changer is powerful, very robust, and designed for a huge range of applications. It features multiple couplings for air/vacuum connections, and can be equipped with connectors for data and electrical transmission. Very compact dimensions, with a coupled height of only 67 mm, make the MPS 130 the first choice for applications requiring a high number of mating cycles.