The commercialization of computer vision technology over the past few years has generated market opportunities in a variety of sectors.
The strongest adoption to date has been in consumer electronics, robotics and machine vision for industrial applications, and automotive, but early-stage markets for computer vision also exist in healthcare, security and surveillance, and sports and entertainment.

A recent report from Tractica indicates that growth will continue to be strong in all of these areas during the next several years, and the market intelligence firm forecasts that 182.7 million computer vision-enabled devices will be shipped each year globally by 2019.
"The degree to which computer vision technology is being adopted depends hugely on the application," says senior analyst Anand Joshi. "Applications like gaming, automotive, and machine vision for industrial applications are leading the way where market traction is already occurring. Other applications, such as security and surveillance, are just starting to emerge."
Joshi adds that the market is still wide open to new entrants and technology development. The sector is awash with dozens of startups and small companies who are pursuing the computer vision opportunity. In addition, established players such as Google, Microsoft, NVIDIA, and other large companies have already established research labs focusing on computer vision. Research papers that break previous records are published at conferences on a quarterly basis, and the technology ramp-up is rapid. Says Joshi, a huge amount of optimism exists in the industry and everyone is banking on huge growth in the future.
Tractica's report, "Computer Vision Technologies and Markets," examines the market dynamics, technology issues, and business opportunities surrounding computer vision and presents 5-year forecasts for the period from 2014 through 2019. Six application markets are analyzed in depth, and key industry players are profiled. Market forecasts, segmented by world region and vertical market, include hardware unit shipments, device pricing, and software revenue.
http://www.tractica.com/
Featured Product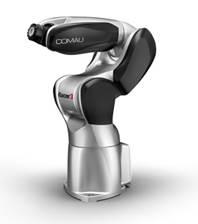 Racer3 is a powerful, high-speed, 6-axis articulated robot featuring a payload of 3kg and a reach of just 630 mm. Built from high-strength aluminum, the newest innovation in Comau robotics is lightweight and can be easily mounted on benches, walls, ceilings or on inclined supports. The third robot within the award-winning Racer family, Racer3 is Comau's response to the growing demand for fast, cost-effective robotic automation within small to medium-sized enterprises and emerging countries. Racer3 is intended for general industry use to increase productivity and reduce overall costs by automating industrial applications. It combines field-proven technology and enhanced dexterity with a keen focus on safety, design and product aesthetics. With a streamlined design and brushed metal exterior, the new powerhouse of a robot combines beauty and speed together with absolute precision and repeatability. Primary applications include assembly, material handling, machine tending, dispensing and pick & place.