UBM Canon brings PBS Texas, TexasPack, and other trade shows to NRG Center, October 13-14
SANTA MONICA, Calif., Sept. 14, 2015 -- Powder & Bulk Solids (PBS) Texas, TexasPack, Design & Manufacturing Texas, ATX Texas, PLASTEC Texas, AeroCon, and Quality Expo will bring hundreds of exhibitors to the NRG Center (formerly the Reliant Center), in Houston, Texas, October 13-14, 2015.

Along with all of the many suppliers demonstrating their technologies and expertise, there will be free presentations on the Center Stage, including a Combustible Dust Explosion Demonstration by professionals from REMBE, a Powder and Bulk Solids jeopardy-style trivia game run by Andrés Orlando of Jenike & Johanson, and a demonstration and discussion of what 3D printing can do, by Samantha Snabes, founder of re:3D, inc. a company that specializes in large scale3D printing.
In addition to all that is on the expo floor, two different two-day conferences tracks will delve into the powder and bulk solids industry; one track is on Fundamentals, and the other is Advanced. Special sessions will deal with safety, including fire and explosion hazards, which are so important in the processing industry.
Of interest to all industries will be a day-long conference on 3D printing, with discussions on new materials and the future of 3D printing, with experts from Stratasys, Senvol, Limitless Solutions, and more. There will also be a day-long conference on Quality, presented by the American Society for Quality (ASQ), which includes a session on what's new with ISO 9001:2015.
For more information on any of the co-located events and their relevant conferences, click on the event links above.
About UBM Canon
UBM Canon is the leading B-to-B event producer, publisher, and digital media company for the world's $3 trillion advanced, technology-based manufacturing industry. Our print and electronic products deliver trusted information to the advanced manufacturing market and leverage our proprietary 1.3 million name database to connect suppliers with buyers and purchase influencers. We produce more than 50 events and conferences in a dozen countries, connecting manufacturing professionals from around the globe. UBM Canon is part of UBM plc (UBM.L) a global provider of media and information services for professional B-to-B communities and markets.
Featured Product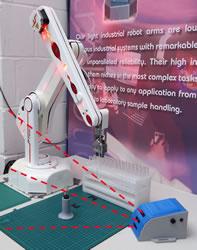 ST Robotics have decades of experience in industrial robots having sold hundreds of robots over the years. The company has 3 main models, R12, R17 and R19 all using a unique simple industrial technology that dramatically reduces costs resulting in the lowest priced industrial robots available. The same uncomplicated technology vastly improves reliability. ST backs this up with a 2 year warranty. Typical applications are routine testing, sample handling and also education. The software is a different paradigm from most robots. It is command based; you type a command and see immediate action. Programming is a building block approach, building confidence as you program in small 'mind-sized bytes'. ST offers free unlimited technical support.