The latest lane switch solution from KLEENLine breaks new ground in terms of price and performance for multi-lane feeding of cartoners and case packers (KLEENLine Pack Expo Booth C-3621)
NEWBURYPORT, Mass. September 14, 2015

KLEENLine, powered by Pro Mach, introduces at Pack Expo Las Vegas 2015, September 28-30, the company's latest solution for lane switch conveying. The new modular KLEENLine lane switch conveyor is faster, quieter, and smaller than previous solutions. It offers customers an outstanding price and performance conveying solution. (KLEENLine Pack Expo Booth C-3621)
The new lane switch conveyor is rated at up to 325 feet per minute (FPM), an increase of nearly double that of other solutions in the lane switch series. The use of timing belts instead of a chain drive system makes for quieter operation. Both full- and partial-wash down options are available. The lane switch conveyor is a standalone module that can be added to existing production lines.
Designed for applications where multiple downstream machines are fed by a single upstream line, the KLEENLine lane switch module accepts products in a single lane and diverts them into multiple lanes, feeding cartoners, case packers, and other secondary and tertiary packaging operations. The module's flexible design allows for a range of conveying configurations.
At Pack Expo KLEENLine will also showcase a sanitary reciprocating shuttle conveyor for processing and packaging lines. The reciprocating shuttle conveyor's uniform product distribution and fast cycle times ensure optimum results. Transferring product from single file to rows, the reciprocating shuttle conveyor can be used for a variety of sanitary applications, including but not limited to: array formation, tray loading, oven loading, multi-tier cooling conveyor loading, and feeding right angle transfers. With variable speeds, belt widths, and retraction lengths, the KLEENLine reciprocating shuttle conveyor is suitable for a wide range of food and pharmaceutical products.
The Pack Expo demonstration also features an integrated 90-degree fabric belt turn conveyor. The belt turn conveyor module is ideal for handling products that may otherwise be damaged by a side flexing modular plastic chain. The FDA approved fabric is quite flexible - this flexibility provides for a wide range of turn geometries in a small footprint. The tight-nose end roller enables gentle product handling in transitions with existing equipment or other KLEENLine conveyors. This active demonstration at Pack Expo also features a robotic pick-and-place application. KLEENLine's automated robotic solutions are designed to accommodate a maximum range of product types, product numbers, product orientation, and dynamic environments.
For more information on KLEENLine sanitary production systems, including conveyors, material handling equipment, vision systems, robotics, automation controls, and systems engineering services, call 1-800-259-5973 and visit http://www.KleenLine.com.
About KLEENLine
KLEENLine is a leading provider of totally integrated sanitary production solutions: conveyors, equipment, controls, robotics, and vision systems. KLEENLine also provides totally integrated in-house consulting, engineering, fabrication, installation, and support. http://www.KleenLine.com.
About Pro Mach
Pro Mach is a leading provider of integrated packaging and processing products and solutions for food, beverage, consumer goods, pharmaceutical, and other diverse companies. Through its brands, Pro Mach provides product packaging and processing equipment, PMMI certified training, installation, parts, and service in Bottling & Capping, Primary Packaging, Flexible Packaging, Material Handling, Labeling & Coding, and End of Line.
Pro Mach has a diverse customer base, from Fortune 500 companies to smaller, privately-held businesses worldwide, which depend on reliable, flexible, technologically advanced equipment and integrated solutions. Pro Mach is headquartered near Cincinnati, Ohio, with manufacturing facilities and offices throughout the United States, Canada, Mexico, and Europe. For more information about Pro Mach, visit http://www.ProMachInc.com.
Featured Product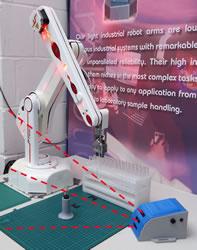 The 6-axis version of the R17HS high speed variant of the R17 robot is now available. As is our policy the 6th axis is an optional bolt-on module. At the same time we have made it even faster and new software eliminates shake and greatly improves repeatability as this video shows. Please see https://www.youtube.com/watch?v=3wG0MeiJ-yE. The video would seem to imply a repeatability of 0.01mm but we are sticking with 0.2mm in the spec. The motor specialist was able to tune the motors from the other side of the pond. My first reaction when we put power on and entered the first commands was to jump back in amazement (and maybe an expletive). Tip speed is now 3m/s; that's 3 times as fast as its nearest competitor yet costs half the price. I love it when a plan comes together.