Cyberworks Robotics brings a wealth of experience and knowledge to Great Rock as it is an established leader in the Automation Industry.
TORONTO, September 24, 2015 --

Great Rock Development Corp. (OTC: GROC) is pleased to announce the acquisition of Cyberworks Robotics Inc., a pioneer in the autonomous robotics industry.
About Cyberworks Robotics
Cyberworks Robotics brings a wealth of experience and knowledge to Great Rock as it is an established leader in the Automation Industry and has the technological reach to target several vertical markets.
These include, but are not limited to, automation of the industrial cleaning and wheel chair markets. The industrial cleaning market alone is the largest prospective industry for deployment of fully autonomous robots and is an area in which we believe Cyberworks Robotics has a dominant position having created the worlds first robotic cleaners that had international sales starting in the late 1980's. Additionally;
• In 1984 Cyberworks Robotics demonstrated the world's first autonomous robot which could navigate and work in unknown areas without any apriori teaching or map learning - it was the world's first truly autonomous mobile robot.
• Cyberworks Robotics developed the world's first robotically assisted electric scooter for the disabled in 1991 with then industry leader Everest & Jennings.
As part of the acquisition Great Rock is to issue 160,000,000 restricted common shares and 400,000 super voting shares to the shareholders of Cyberworks Robotics.
Capital Structure
In follow up to our September 11, 2015 and September 15, 2015 press releases, Great Rock has finalized the cancellation of a total of 120,000,000 shares of common stock and through the divestiture eliminated all but approx. $14,000 of debt. Post acquisition the new total issued & outstanding share amount is 247,520,269 issued common shares. The float is estimated at approximately 38,000,000 shares consistent with the past 3 years.
Management looks forward to sharing more information on our progress through timely news releases and email updates.
To be added to the Great Rock mailing list email Contact@GreatRockDev.com with GROC in the subject.
About Great Rock Development
The global marketplace demands efficiency. At Great Rock we design and implement a variety of solutions, including automation in order to streamline labor and energy costs while improving speed and efficiency within the workplace. At Great Rock, our business solutions span several industries. From agricultural fields to manufacturing and big box super-stores, and to remote mining operations, Great Rock will develop solutions to enhance the efficiency and cost structure of your business.
Featured Product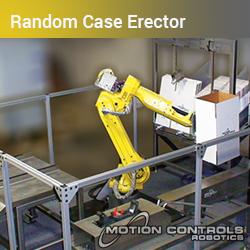 Random Case Erectors are ideal for fulfillment centers and other end-of-line packaging needs. Save money by eliminating changeover downtime. Reduce ergonomic injuries by eliminating repetitive manual tasks. The Random Robotic Case Erector System includes: • FANUC M20iA/20 Robot • Combi gravity case magazine - holds 2 box sizes • Combi bottom flap folder with integrated 3M case sealing head. • Fixed robot base, anchored to the floor • Flexible end of arm tool to pick and erect multiple case sizes to eliminate changeover downtime • System wiring and controls • Color 7.5" touchscreen HMI display for selecting case size • Perimeter guarding with safety interlocks on doors • Programming for Robot, PLC/PMC, HMI and Vision • Complete documentation in electronic format • On-site training and support • Compliance with all applicable robotic safety standards. Alternate safety configuration may be available to allow an operator to changeover a case size in one magazine while the robot continues to work in other magazines. Contact Motion Controls Robotics to learn more about how to implement this system into your current end-of-line operations.