If sales of frame grabbers serve as a barometer of the health of the machine vision industry, then manufacturers and system integrators have reason to be optimistic.
WOBURN, MA, SEPTEMBER 24, 2015 -- If sales of frame grabbers serve as a barometer of the health of the machine vision industry, then manufacturers and system integrators have reason to be optimistic.

The devices, used to acquire or "grab" digital still frames from video streams, have experienced accelerated growth due to the adoption of vision systems in automation, 3-D vision, vision-guided robotics and emerging non-industrial applications including life science and ITS. Newer, faster interfaces, such as CoaXPress™ that supports bit rates up to 6.25 Gbit/s over inexpensive coaxial cable, are also contributing to frame grabbers' rising tides. Frame grabber sales account for approximately four percent of the $15.7 billion* (USD) overall global market for machine vision components and systems.
"Expansion of automation technology used in automotive, pharmaceutical and semiconductors inspection has played a major role in the good fortunes of the machine vision industry but I would not underestimate the impact of traffic management, surveillance and medical diagnostics in this year's 10-15% growth in component sales," shared Donal Waide, Director of Sales and Marketing for BitFlow, a manufacturer of frame grabbers. "The commercialization of these 'fringe' applications are important because once deployed, their vision systems typically will need to have cameras swapped out every year or two, and frame grabbers upgraded every 2-3 years. We estimate that non-industrial applications hold market share of about 20 percent."
Another dynamic driver for frame grabbers is 3-D vision that is enabling advanced inspection, as well as improved robotic guidance. Frame grabbers produced by BitFlow include boards that are capable of taking images from two or more different cameras and sending them to memory for processing as a 3-D image. With almost limitless application, 3-D holds the promise of greater profitability for manufacturers by enabling faster production with fewer product defects.
For more information, please call 781-932-2900 or visit www.bitflow.com.
Featured Product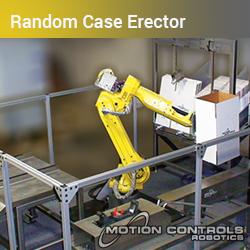 Random Case Erectors are ideal for fulfillment centers and other end-of-line packaging needs. Save money by eliminating changeover downtime. Reduce ergonomic injuries by eliminating repetitive manual tasks. The Random Robotic Case Erector System includes: • FANUC M20iA/20 Robot • Combi gravity case magazine - holds 2 box sizes • Combi bottom flap folder with integrated 3M case sealing head. • Fixed robot base, anchored to the floor • Flexible end of arm tool to pick and erect multiple case sizes to eliminate changeover downtime • System wiring and controls • Color 7.5" touchscreen HMI display for selecting case size • Perimeter guarding with safety interlocks on doors • Programming for Robot, PLC/PMC, HMI and Vision • Complete documentation in electronic format • On-site training and support • Compliance with all applicable robotic safety standards. Alternate safety configuration may be available to allow an operator to changeover a case size in one magazine while the robot continues to work in other magazines. Contact Motion Controls Robotics to learn more about how to implement this system into your current end-of-line operations.