December 14-16, 2015 in San Diego, California
NEW YORK, Sept. 30, 2015 -- MecklerMedia Corporation (OTCQX: MECK) announced that Qualcomm Incorporated and Autonomous Solutions Inc. (ASI) are confirmed as Platinum Sponsors of RoboUniverse San Diego, taking place at the San Diego Convention Center in San Diego, California on December 14-16, 2015.

Headquartered in San Diego, Qualcomm Incorporated is a world leader in 3G, 4G, and next-generation wireless technologies.
In addition to Qualcomm's sponsorship of RoboUniverse San Diego, Qualcomm's Vice President of Engineering, Charles Bergan, is confirmed to deliver an opening keynote on December 15 from 9:15am - 10:00am. Also representing Qualcomm at RoboUniverse will be Houman Haghighi, Staff Manager of Business Operations, Qualcomm Ventures, and Ryan Kuder, Managing Director of the Qualcomm Robotics Accelerator, powered by Techstars, who will serve as judges for the RoboGameChanger Startup Competition.
The RoboGameChanger Startup Competition takes place on December 15 from 5:00pm - 6:30pm. Additional confirmed judges include Tyler Benster, Technology Evangelist, Asimov Ventures, and Rick Dalton, Managing Director, Mooreland Partners. The winner of the competition will receive a $10,000 uncapped convertible note, courtesy of Asimov Ventures. The Startup Competition is sponsored by Asimov Ventures and Mooreland Partners.
MecklerMedia also announced Mel Torrie, CEO and Co-Founder, Autonomous Solutions, Inc. as the final confirmed keynote speaker for RoboUniverse San Diego. Torrie's session takes place on December 16 from 1:30pm - 2:15pm.
A worldwide leader in vehicle automation and unmanned ground vehicle solutions, ASI is expected to display a fully autonomous vehicle for agricultural use as part of its Platinum Sponsorship.
Additional confirmed keynote speakers for RoboUniverse San Diego include:
* Chris Anderson, CEO, 3D Robotics
* Dr. Cynthia Breazeal, Founder and Chief Scientist, Jibo
* Albert P. Pisano, PhD, Dean of the Jacobs School of Engineering, University of California, San Diego
Prices increase on October 14, so register before to save with early bird pricing. For more information and to register for RoboUniverse San Diego, visit robouniverse.com.
If your company is interested in sponsoring or exhibiting at RoboUniverse San Diego or an upcoming event, please contact robouniverse.sponsors@mecklermedia.com.
About MecklerMedia
MecklerMedia (OTCQX: MECK) is the leading producer of global trade shows, conferences, and digital publications covering 3D printing, robotics, and bitcoin/blockchain. MecklerMedia produces more than 25 conferences annually, including Inside 3D Printing, Inside Bitcoins, RoboUniverse, and the 3D Print Design Show. MecklerMedia's news sites include Inside Bitcoins News, 3D Printing Industry, and 3DPrint.com, which provide up-to-date coverage to help drive business forward.
Featured Product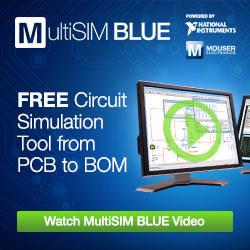 Powered by NI, MultiSIM BLUE Upgrade includes schematic capture, simulation, PCB layout, BOM-to-cart capabilities using only one tool. No more switching between different programs for circuit design. Perform MCU co-simulation. New voltage, current and power probes as well as faster active analysis mode are also available. Plus, it even comes with an expansive database of new components from industry-leading manufacturers. Discover why EDN named MultiSIM BLUE a HOT 100 Product of the Year.