Advanced Hot End from B3 Innovations sparks a new 3D Printer at Words and Robotics
Greenville, NC October 05, 2015 -- Words and Robotics, the makers of Ditto Series 1 3D Printer, today announced that they are the first company to exclusively include the B3 Innovation Pico Hot End. This achievement puts Words and Robotics in a position to provide 3D Printers that can use all of the currently available printer filaments and allows their printers to be at the starting line as new filament types are developed. This underscores Words and Robotics's commitment to providing leading technology for the public.

This significant milestone will be marked by the announcement of their Ditto Series at the crowd funding site: http://www.KickStarter.com in November, 2015. KickStarter is a new way to fund innovative products. "The Ditto Series printer, with the inclusion of the Pico Hot End, is a great milestone for Words and Robotics," said Joseph La Rocque, CEO of Words and Robotics LLC. "We are very pleased that our customers will have the opportunity to recognized the value of the Ditto Series printer. Our inclusion of B3 Innovation's Pico Hot End is the result of our commitment to providing the best technology for the customer at a reasonable price. This will continue to motivate us to be on the forefront of technology today and in the future."
Words and Robotics has been involved in 3D Printers since 2012. "Words and Robotics is in a great position to provide 3D printers that will use not only the standard filaments such as ABS and PLA, but will be advancing new printing materials such as porcelain and glass as well as a host of new materials. We are definitely on our way to achieving our goal of providing advanced 3D Printers along with advanced materials," added Joseph La Rocque. The company has recently indicated plans to research and develop a glass printer and has started designs for the technologically advanced printer head.
About Words and Robotics LLC
Founded in 2012, Words and Robotics is dedicated to advancing the field of robotics and, specifically, the 3D Printer industry. The company's mission is to create consumer products based on their own research and development as well as creating strategic alliances with other high quality companies. For more information about Words and Robotics, visit its website at http://www.WordsAndRobotics.com.
Featured Product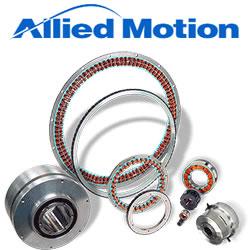 Allied Motion's Megaflux MFH170i series of 170 mm (6.7 in) diameter housed brushless torque motors consists of a high performance brushless DC torque motor, a digital servo drive, and an optical encoder, all integrated into a rugged machined aluminum housing with robust duplex bearings. The MFH0170i series features a 63.5 mm (2.5 in) large-bore through shaft, and is characterized by a very high torque-to-inertia ratio. There are three stack lengths in the series with peak torque ranging from 8.5 up to 16.9 Nm (75 up to 150 lb-in). The standard winding voltage is 48 V. And to ease the hassle of long leadtimes for prototypes, the new MFH170i is now available through our QuickShip program.