The announcement comes after Cisco and FANUC America's 12-month Zero Downtime (ZDT) pilot project with a major automotive manufacturer.
SAN JOSE, Calif.--Cisco and FANUC America today announced a collaboration to connect industrial robots in the manufacturing industry. The robots operate on connected systems to allow new, preventative maintenance on operational equipment, which can result in a dramatic reduction of unplanned production downtime.

The announcement comes after Cisco and FANUC America's 12-month Zero Downtime (ZDT) pilot project with a major automotive manufacturer. FANUC America and Cisco helped significantly decrease related production downtime and as a result increased overall equipment effectiveness (OEE).
Many manufacturers operate at high volumes, and unplanned production downtime is costly. With the FANUC ZDT Solution, the system proactively detects and informs of potential equipment or process problems before unexpected downtime occurs, allowing the maintenance issue to be addressed in a planned outage window.
Cisco's new Connected Machines offering helps enable machine builders and end-user manufacturers to embed Cisco switching, security and compute technologies directly in the machine itself - or in a factory-floor aggregation device. This "edge compute" approach optimizes available network resources and bandwidth by analyzing big data on the plant floor prior to transmitting to a data center or cloud-based data store for further analysis.
FANUC, a world-leading CNC systems and industrial robot company that supplies machines to manufacturers, uses big data analytics to identify maintenance procedures that can prevent breakdowns before they occur.
In the past, issues were discovered only after production downtime had occurred in the factory and only when a physical connection to the robot allowed for analysis and subsequent service. With the FANUC ZDT solution, the robot is connected through a Cisco network and then into a Cisco edge compute data collector in the plant.
The data relevant for the maintenance issue is sent to the Cisco Cloud where the cloud analytics engine captures the "out of range" exceptions and predicts the maintenance need. Then, an alert is sent from the cloud application to FANUC service personnel and to the manufacturing customer about the need for replacement part. The part is then shipped to arrive at the factory in time for the next scheduled planned maintenance window.
Rick Schneider, CEO for FANUC America, says the potential for this solution across all their implementations could add profound value for customers and help enable the IoT Digital Transformation that many manufacturers have long anticipated.
"Preventing unplanned downtime is a huge savings for our customers and makes the FANUC robots with ZDT a tremendous value. With Cisco, we are helping our customers access this new value and also re-imagining our go-to-market strategy for after-sales service and support."
Find out more by watching the FANUC Cisco ZDT Overview Video.
About Cisco
Cisco (NASDAQ: CSCO) is the worldwide leader in IT that helps companies seize the opportunities of tomorrow by proving that amazing things can happen when you connect the previously unconnected. For ongoing news, please go to http://thenetwork.cisco.com.
About FANUC America Corporation
FANUC America Corporation of Rochester Hills, MI, is a subsidiary of FANUC CORPORATION Japan, and provides industry-leading robotics, CNC systems, and factory automation. FANUC's innovative technologies and proven expertise help manufacturers in the Americas maximize efficiency, reliability and profitability.
Featured Product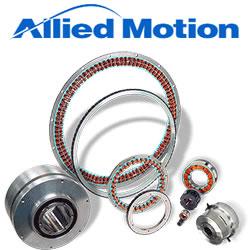 Allied Motion's Megaflux MFH170i series of 170 mm (6.7 in) diameter housed brushless torque motors consists of a high performance brushless DC torque motor, a digital servo drive, and an optical encoder, all integrated into a rugged machined aluminum housing with robust duplex bearings. The MFH0170i series features a 63.5 mm (2.5 in) large-bore through shaft, and is characterized by a very high torque-to-inertia ratio. There are three stack lengths in the series with peak torque ranging from 8.5 up to 16.9 Nm (75 up to 150 lb-in). The standard winding voltage is 48 V. And to ease the hassle of long leadtimes for prototypes, the new MFH170i is now available through our QuickShip program.