New federal government requirements for reporting of product ownership must be balanced against factors including convenience, data integrity and privacy.
ARLINGTONGTON, Va--The following statement is attributed to Gary Shapiro, president and CEO, Consumer Electronics Association (CEA), regarding the Department of Transportation's plan to require drone registration:

"To ensure aviation safety, consumer privacy rights, innovation and jobs in this nascent industry, any federally mandated product registration system should be imposed narrowly to accomplish true safety goals. New federal government requirements for reporting of product ownership must be balanced against factors including convenience, data integrity and privacy.
"Any proposal must sensibly and reliably differentiate products, ranging from toys to equipment intended for commercial use. The task force's focus on mandatory registration should expand to determine if there are better ways to meet the objectives of regulators and law enforcement.
"Drones are revolutionizing how we respond to emergencies and disasters, track our weather and monitor traffic. The expansion of these technologies into agriculture, energy, utilities, mining, construction, real estate, news media and film production will change the way we do business. Transformative, disruptive technologies require new thinking on how to create and support an innovative market, both in regulatory and non-regulatory activities.
"As an industry group representing many companies in this emerging technology sector, we look forward to contributing our views, recommendations and industry expertise to ensure timely innovation-friendly regulatory guidance. We think it is equally important to ensure that the safety messages of the 'Know Before You Fly' campaign are received and understood by both current and future users of drones for recreational and hobbyist purposes."
CEA market research expects 2015 to be a defining year for drones, as the U.S. market will approach $105 million in revenue (increasing by more than 52 percent from 2014) with unit sales expected to approach 700,000, an increase of 63 percent. CEA is a supporting member of the Unmanned Aircraft Systems (UAS) safety campaign 'Know Before You Fly,' which provides prospective UAS operators with the information and guidance they need to fly safely and responsibly.
About CEA:
The Consumer Electronics Association (CEA) is the technology trade association representing the $285 billion U.S. consumer electronics industry. More than 2,000 companies enjoy the benefits of CEA membership, including legislative and regulatory advocacy, market research, technical training and education, industry promotion, standards development and the fostering of business and strategic relationships. CEA also owns and produces CES - The Global Stage for Innovation. All profits from CES are reinvested into CEA's industry services. Find CEA online at CE.org, InnovationMovement.com and on social.
Featured Product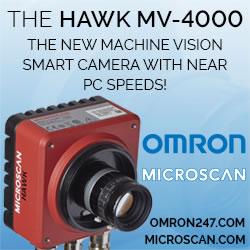 Space, or the lack of it, can be a challenge when placing barcodes or Data Matrix symbols on components. However, readable barcodes are critical to component traceability, time/date stamping, work in progress (WIP) tracking, and recall management. MicroHAWK UHD smart cameras can decode very small and difficult-to-read barcodes, including Data Matrix two-dimensional (2D) symbols and direct part marks (DPM). Users can rely on the MicroHAWK UHD to read symbols with an x-dimension almost invisible to the naked eye!