Open-source robotic arm for domestic use
SAN FRANCISCO, Oct. 27, 2015 -- Dobot, an open-source robotic arm that provides daily assistance to consumers and sophisticated features to experienced makers, has succeeded in raising over $430,000 USD on Kickstarter.com and continues to break crowdfunding records in its category.

Dobot is an extraordinary robotic arm with high repeat precision (up to 0.2mm) and a stepper motor. It's an Arduino-based open source gadget that is very easy to control and affordable for the average consumer. Highlighted features include:
High Repeat Precision. Dobot manages to maintain industrial precision levels. When performing repetitive actions, the error in precision is as small as 0.2mm, empowering the user to do delicate work without compromising precision.
Excellent Production Quality. The accuracy of Dobot's key parts reaches 0.02mm with the advanced CNC cutting technology, ensuring structural stability and high quality.
Easy to Use. After extensive research and design, a wide range of methods were created to control the Dobot for the user's convenience, including PC, mobile app, EEG, voice, vision, leap motion and even hand gestures. It applies an easy click-and-drag control interface for beginners and is fully programmable for advanced makers with Processing, Arduino, and C/C++ languages.
Minimum Noise. Equipped with a customized stepper motor, the Dobot minimizes noise, outperforming the commonly used servo robotic arms and making the user experience more pleasant.
Open Source. As the team is made up of a group of enthusiastic makers, Dobot is open-source and compatible with three open-source firmware options for special applications and developers with different programming preferences.
Dobot has raised more than $430,000, exceeding 1200% of its funding goal so far. It has received many endorsements and testimonials, including
"I'm lucky to get the chance to see lots of hardware projects, but Dobot's blend of high production value, precision and openness has me really excited!"
--- Jeremy Gordon, Former Vice President of Twitter
"It is very interesting…the motion is really precise, and I think this is going to be really useful."
--- Massino Banzi, Co-founder of Arduino
To learn more about Dobot, please visit: http://dobot.cc
Please see its Kickstarter project page at https://www.kickstarter.com/projects/dobot/dobot-robotic-arm-for-everyone-arduino-and-open-so?ref=press
About Dobot
Dobot is the first desktop-level robotic arm with this level of repeat precision. It features industrial-standard accuracy and stability, intuitive and versatile controls, all at a highly competitive price.
Featured Product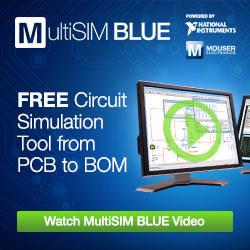 Powered by NI, MultiSIM BLUE Upgrade includes schematic capture, simulation, PCB layout, BOM-to-cart capabilities using only one tool. No more switching between different programs for circuit design. Perform MCU co-simulation. New voltage, current and power probes as well as faster active analysis mode are also available. Plus, it even comes with an expansive database of new components from industry-leading manufacturers. Discover why EDN named MultiSIM BLUE a HOT 100 Product of the Year.