Marubeni has purchased product and will be sole distributor of Drone Detector in Japan. This is the link to their Drone Detector page: http://www.marubeni-sys.com/si/drone/
Austin, Tex. November 05, 2015 -- Drone Labs, creator of the industry-leading Drone Detector, announced today that it has signed a three-year distribution contract with Marubeni Information Systems, one of Japan's oldest and most innovative electronic firms. In addition, Marubeni purchased an undisclosed number of Drone Detectors.

Marubeni, with nearly 1,000 employees, has been in the IT industry for 50 years and is known for what it calls, "a long-nurtured ability to discover new technologies, products and solutions." It continues this tradition by entering the nascent industry of intrusive drone detection as it partners with Drone Labs.
Last April, a man flew a commercially available drone and landed it on the Prime Minister's home in downtown Tokyo. Attached to the drone was a small plastic bottle of sand from Fukushima Prefecture, home to the meltdown-ridden No. 1 nuclear plant. In addition to the trace amounts of radioactive materials, police reported that the drone was equipped with a camera, two flares, and a brown container of a liquid that turned out to contain a small amount of cesium.
This intrusion raised concerns in Japan, and worldwide, about the real possibility of drones being used for terrorism. When the operator was arrested and told police the drone had been atop the building for nearly two weeks, the critical need for a reliable detection system became quite apparent.
Had Drone Detector been in place, the drone would have been spotted immediately, even though it had been painted black in an attempt to hide its presence.
"We're pleased that Marubeni recognized our technological superiority when its officials saw the Drone Detector in action, seeing out 500 meters in downtown Tokyo," said Zain Naboulsi, CEO and co-founder of Drone Labs. "With our layered approach of audio and radio frequency, we can easily outperform our competitors." The company has previously detected drones at one-kilometer in its testing.
Drone Detector will soon start to incorporate electronic warfare techniques into a countermeasure system, which is currently being tested in partner countries.
About Drone Labs
Founded in Austin, Tex., Drone Labs and its flagship product, Drone Detector, provides drone security solutions for customers worldwide. It is the world's most advanced commercial drone-detection system. Each installation is custom made but is easily retrofitted into any security system. For more information, visit http://www.dronedetector.com.
Featured Product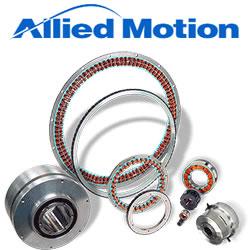 Allied Motion's Megaflux MFH170i series of 170 mm (6.7 in) diameter housed brushless torque motors consists of a high performance brushless DC torque motor, a digital servo drive, and an optical encoder, all integrated into a rugged machined aluminum housing with robust duplex bearings. The MFH0170i series features a 63.5 mm (2.5 in) large-bore through shaft, and is characterized by a very high torque-to-inertia ratio. There are three stack lengths in the series with peak torque ranging from 8.5 up to 16.9 Nm (75 up to 150 lb-in). The standard winding voltage is 48 V. And to ease the hassle of long leadtimes for prototypes, the new MFH170i is now available through our QuickShip program.