ROBO Global, formerly ROBO-STOX, is hosting its inaugural Stock Picking Challenge just in time for the holidays - know the market and win a drone.
November 11, 2015 --Dallas, Texas: Kicking off today, ROBO Global launches its first-ever stock picking challenge. Contestants (ages 18 and older) will customize a three stock portfolio, submit the selection in seconds, and have the opportunity to win a drone. There is no purchase necessary to enter.

The ROBO Global Holiday Stock Picking Challenge includes all 83 ROBO index holdings, allowing contestants to select their top 3 robotics companies from around the globe. Registration will be open from Nov. 11-20, 2015 and the contest will run from Nov. 23-Dec. 18, 2015. The top three contestants will be awarded a drone.
Register for the ROBO Global Holiday Stock Picking Challenge at roboglobal.com/stock-picking-challenge and follow the leaderboard weekly on ROBO News to keep up with the action.
ABOUT ROBO
ROBO Global, formerly known as ROBO-STOX, is the creator of the first benchmark index to track the global robotics market; ROBO Global defines the universe of robotics and automation for investors.
Featured Product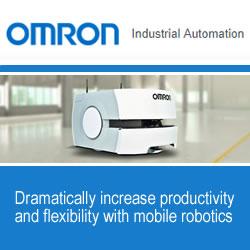 The Omron Adept Lynx Cart Transporter is an Autonomous Intelligent Vehicle (AIV) designed to attach to movable carts and transport them from a pickup location to a drop off location. Applications include line-side inventory replenishment, moving flow racks, transporting Work in Progress (WIP) between process steps, and moving finished goods to the warehouse. The Lynx Cart transporter leverages Natural Feature Navigation to autonomously find a path through the facility without the need for any facility modifications necessary.