December 15, 2015 in San Diego, California
NEW YORK, Nov. 11, 2015 -- MecklerMedia Corporation (OTCQX: MECK) announced judges and revealed details for the upcoming RoboGameChanger Startup Competition at RoboUniverse San Diego, including a prize of $10,000 (uncapped convertible note), courtesy of leading early-stage technology venture capital firm, Asimov Ventures.

The RoboGameChanger Startup Competition showcases the talents of innovative and emerging robotics startups, offering them the opportunity to gain exposure to industry leaders and VCs, receive feedback and insights from seasoned robotics innovators, and compete for the opportunity to raise funding.
3D electronics printing company Voxel8 won the competition at RoboUniverse New York in May 2015, going on to raise $12M in a Series A round in July.
The competition takes place on December 15 at the San Diego Convention Center in San Diego, California, and is sponsored by Mooreland Partners and Asimov Ventures.
RoboUniverse has confirmed 11 participants, and expects to add 4-5 additional companies to compete in the RoboGameChanger Startup Competition in San Diego.
The list of competition participants include:
Asylon
Haddington Dynamics
Harvest CROO Robotics
Infinite Trading
INOVA Drone
Muse Robotics
Qelzal
Robolink
SkyFront
Transcend Robotics
UMAC Air
Judges for the competition include: Tyler Benster, Technology Evangelist, Asimov Ventures; Ellen Chang, Managing Partner, LightSpeed Innovation; Rick Dalton, Managing Director, Mooreland Partners; Houman Haghighi, Staff Manager of Business Operations, Qualcomm Ventures; and Dr. Ping Wang, PhD (Moderator).
The competition is open to all RoboUniverse San Diego registrants, and will take place on December 15 from 5:00pm - 6:30pm, followed by a networking reception.
Prices increase on December 2, so register before to save with early bird pricing. For more information and to register for RoboUniverse San Diego, visit robouniverse.com/san-diego.
If your company is interested in sponsoring or exhibiting at RoboUniverse San Diego or an upcoming event, please contact robouniverse.sponsors@mecklermedia.com.
Featured Product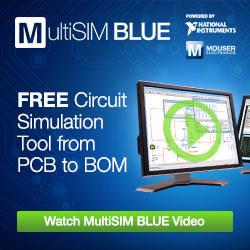 Powered by NI, MultiSIM BLUE Upgrade includes schematic capture, simulation, PCB layout, BOM-to-cart capabilities using only one tool. No more switching between different programs for circuit design. Perform MCU co-simulation. New voltage, current and power probes as well as faster active analysis mode are also available. Plus, it even comes with an expansive database of new components from industry-leading manufacturers. Discover why EDN named MultiSIM BLUE a HOT 100 Product of the Year.