Calling Robotics Start-ups: Apply to Compete for Publicity and Possible Venture Capital.
Minneapolis, Minn. November 12, 2015 -- Fostering technical innovation is a key fundamental for the Robotics Alley Conference & Expo (Dec. 1-2 in Minneapolis). In that spirit, this year's event will feature a competition for tech start-ups to pitch their business plans to a panel of four venture capital judges, gaining publicity and the possibility to secure investment capital.

Qualified applicants should ideally work in robotics, sensors or advanced manufacturing. Robotics Alley staff will narrow submissions to the three finalists who will compete before the judges panel. The top 10 finalists will receive free conference passes.
The application form is available online at roboticsalley.org/investment.
The three entrepreneur-contestants selected as finalists will make their pitches to the judges on Day Two of the conference, December 2, in a live public session open to Robotics Alley attendees. Each presenter group will have 10-12 minutes to make their opening pitch, followed by a 15-minute Q&A session with judges and the audience.
Incentives to Compete
For starters, the top 10 applicants receive complimentary conference passes and numerous networking opportunities with industry leaders.
The top three finalists gain valuable feedback on their business plans from the venture capitalist-judges. Additionally, the three each will receive a complimentary show booth at Robotics Alley Conference & Expo and will be mentioned in a PRWeb press release and will be showcased individually in feature stories on The Business of Robotics website.
The winner of the competition will be announced at the conclusion of the conference, in PRWeb press release, and on The Business of Robotics. Additionally, the winner gains possible monetary investments that may result after a due diligence process conducted by the judges.
For more information, go to roboticsalley.org/investment.
Featured Product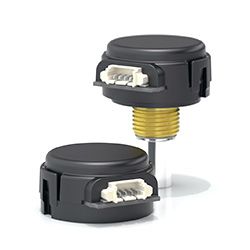 US Digital is pleased to announce the launch of the E4T, their latest series of miniature high performance optical encoders. The E4T series delivers a marked performance increase over similar encoder models and designed to be an enhanced replacement for the E4P encoder series. The E4T utilizes state of the art transmissive optical sensing technology, and incorporates US Digital's own proprietary OptoASIC. Assembly of the E4T is simple and efficient and retains the previous E4P's form factor. Key features of the new E4T include: • Mechanically and Electrically Interchangeable with E4P • Improved Quadrature Signal Strength • 100 kHz Frequency Response • Transmissive Optical Design • Collet Style Push on Optical Disk Design (Patent Pending) • Simple & Efficient Assembly Process As with all of our products the E4T is designed and manufactured in their Vancouver, Washington USA facility and is available for purchase as of December 2014.