Consumer Robots, Enterprise Robots, Autonomous Vehicles, and Unmanned Aerial Vehicles Will Drive the Rapid Diversification of the Sector beyond Traditional Industrial Markets
The global robotics industry is at a critical turning point, at which new and upcoming non-industrial markets like autonomous vehicles, consumer robotics, enterprise robots, and unmanned aerial vehicles (UAVs) are expected to overshadow traditional markets like industrial robotics. The years between 2015 and 2020 will redefine the way humans think about robots, as they become integral to our daily lives, setting the scene for the next decade, which will be heavily influenced by robotics and artificial intelligence (AI).

According to a new report from Tractica, against this backdrop of technology and market evolution, the global robotics industry will grow from $28.3 billion worldwide in 2015 to $151.7 billion by 2020. The market intelligence firm forecasts that most of this growth will be driven by non-industrial robots, which includes segments like consumer, enterprise, medical, military, UAVs, and autonomous vehicles. Tractica anticipates that annual robot unit shipments will increase from 8.8 million in 2015 to 61.4 million by 2020, with more than half the volume in that year coming from consumer robots.
Robotics Market Forecasts
"Around the world, new players and markets are emerging to assume an important role in the ongoing development of the robotics industry," says research director Aditya Kaul. "Technologies like AI, machine vision, voice and speech recognition, tactile sensors, and gesture control will drive robotic capabilities far beyond what is possible today, especially in terms of autonomy."
Kaul adds that there is also a regional shift of the industry's center of gravity taking place, moving from Japan, which has been the nerve center of robotics innovation for decades, to the United States, specifically Silicon Valley, where the future of robots is being shaped today.
Tractica's report, "Robotics Market Forecasts", includes global market sizing, segmentation, and forecasts for the robotics industry within 22 distinct application markets in the consumer, enterprise, industrial, and military domains. Unit shipments and revenue forecasts are included for each application market, segmented by world region. The report also includes technology attach rates for machine vision, voice/speech recognition, gesture recognition, and tactile sensors, plus connectivity technologies for consumer robots. The forecast period for this report extends from 2015 through 2020. An Executive Summary of the report is available for free download on the firm's website.
About Tractica
Tractica is a market intelligence firm that focuses on human interaction with technology. Tractica's global market research and consulting services combine qualitative and quantitative research methodologies to provide a comprehensive view of the emerging market opportunities surrounding User Interface Technologies, Biometrics, Digital Health, Wearable Devices, and Automation & Robotics. For more information, visit www.tractica.com or call +1.303.248.3000.
Featured Product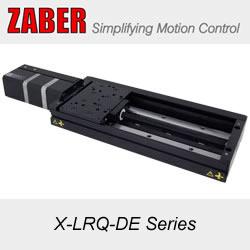 Zaber's new and improved stage (X-BLQ-E) is a closed-loop, belt-driven motorized linear stage with built-in motor encoder and controller. With travel lengths up to 3 m, 10 µm repeatability, and a maximum speed of 2.0 m/s, X-BLQ-E stages are perfect for rapid positioning over large distances. A built-in motor encoder allows closed-loop operation and slip/stall recovery, and an optional indexed knob provides manual control for operation without a computer. Like all Zaber products, the X-BLQ-E Series is designed for easy set-up and operation.